No Place for Hate rally inspires, calls to action
"We have a right to thrive, to be unique, be incredible, feel safe, and each of you have the power to make that happen," said Mrs. Anita Gray to finish her address to the WJ student body during the No Place for Hate rally on Tuesday, October 3.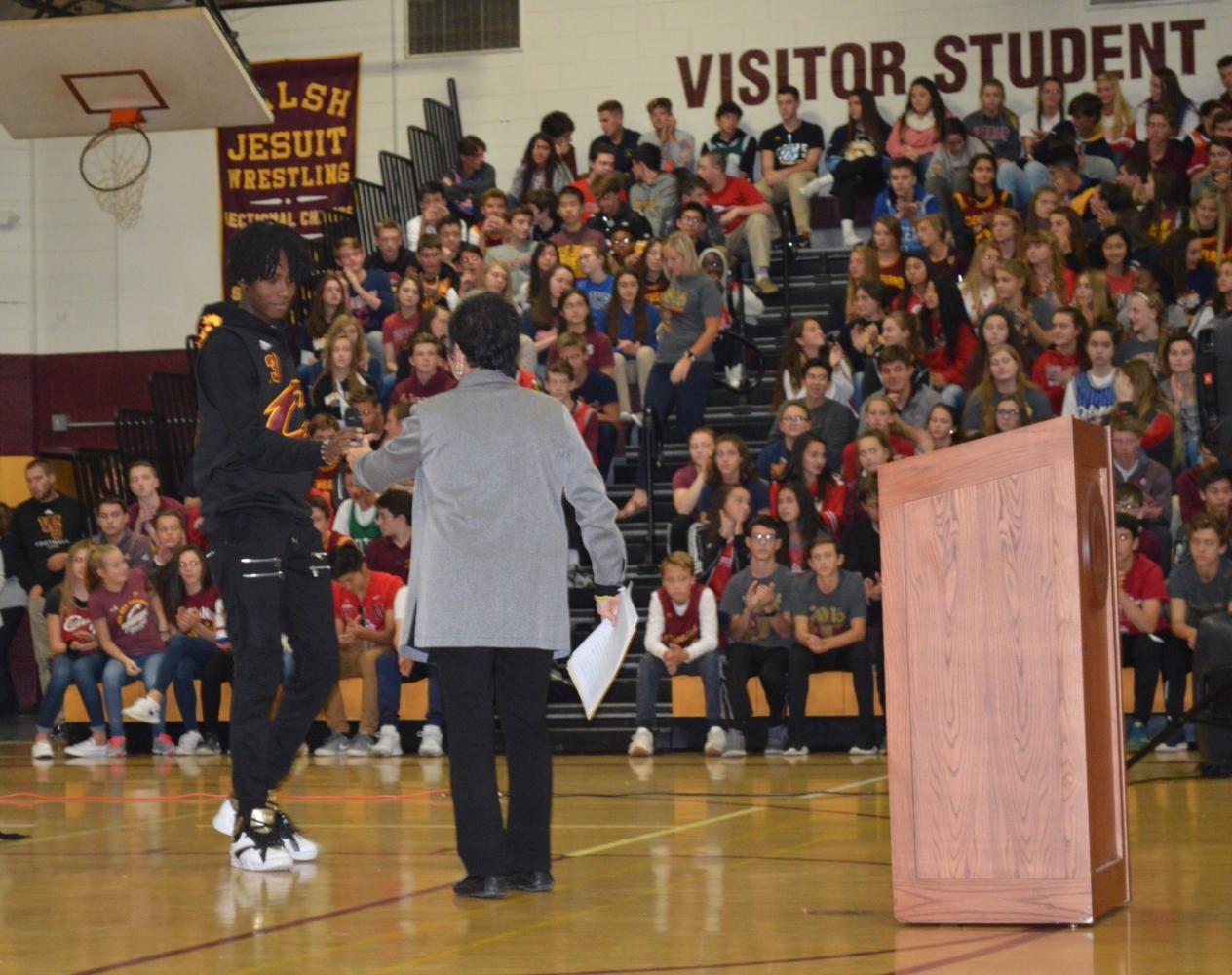 No Place for Hate is a part of a "mission" that operates through the Anti-Defamation League (ADL). "That initiative provides schools and communities with an organising framework for combating bias, bullying and hatred, leading to long term solutions for creating and maintaining a positive climate," according to the ADL.
Alaina O'Donnel, senior and Student Government president, welcomed Mrs. Gray and two students who would be speaking to the faculty, staff, and student body.
Mrs. Gray, a member of the ADL board, introduced the concept of the No Place for Hate mission. She included a story of a pivotal moment in her childhood. She was forced to choose to play with her friends or a boy who looked different. She said that the hurt look on the boy's face was and will forever be seared in her memory. Apparently, that incident led her to join ADL and work toward equality and diversity.
The second speaker, sophomore Shemar Morgan, also shared a personal story of his struggles battling Alopecia Areata, a genetic condition that attacks a person's hair follicles. He told the students of his struggles growing up without hair and how he learned not to care what others thought of him and to accept himself for who he is. "Whether you are bald, have hair, skinny or fat, tall or short, black or white or Asian, Catholic or Jewish or Muslim, we all have one thing in common," Shemar said, "being human."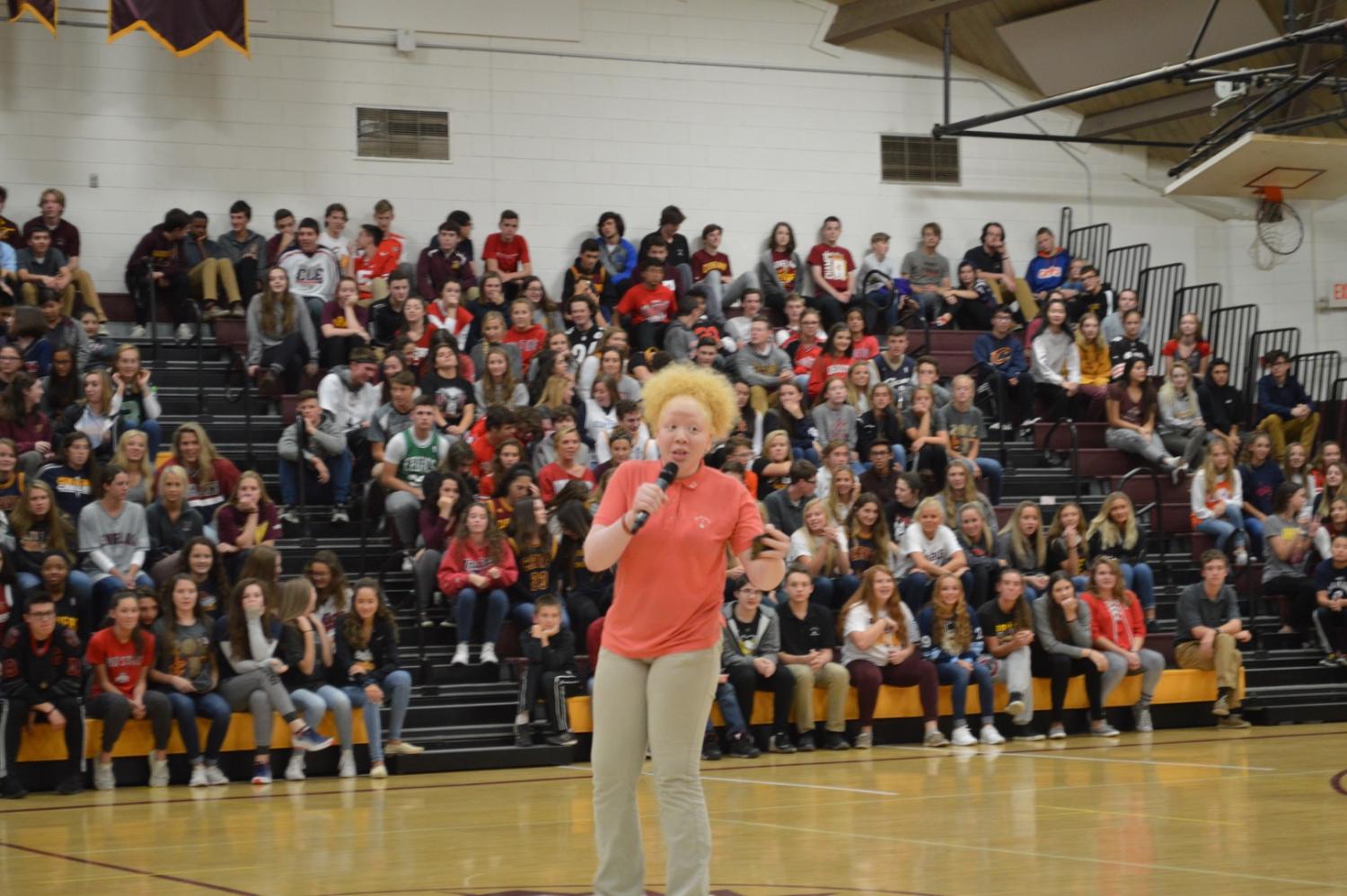 Senior Eliot Dyer was moved by Shemar's speech, saying, "It inspired me to want to work for equality for all and help spread diversity." Hannah Bessemer, a junior, agreed about the positive impact of Shemar's talk. "I think Shemar had a bigger impact on me personally because that was a part of him that he didn't like talking about, and he made himself vulnerable in front of a whole group of people, which takes a lot of courage."
Freshman Ke-Turah Allen described her genetic inheritance, albinism, which entails a lack of melanin, the pigment that gives a person's skin and hair darker color. Ke-Turah has been on a path of self discovery ever since her eyes were opened to the real world and how cruelly people can treat other people. During a grocery store visit, a stranger abruptly and cruelly asked her, "What are you?"
She has since learned to accept herself and not listen to the "haters." Ke-Turah ended her speech by saying, "You do not have to try and fit in when you are custom made."
"
A big takeaway from the rally for me is that everyone is different, but we need to learn to respect and embrace other people's differences."
— Hannah Bessemer, '19
Responding to Ke-Turah speech, freshman Michael DelPrete said, "It honestly showed me a deeper side of the world, one that not everyone sees but which now can hopefully be recognized so more people will not stand for bullying." He continued, "I am very glad that I got that experience, and I hope it impacted others as much as it did me."
Many students were moved by these personal tales of hardship and self discovery. In her final words, Mrs. Kaneshia Crenshaw, director of diversity, asked the audience to join her in the No Place for Hate mission. The entire student body came down from the bleachers and surrounded Mrs. Crenshaw, all linking arms and gently swaying as they enthusiastically sang the alma mater of Walsh Jesuit.
After the assembly, Hannah Bessemer expressed the sentiments of many students: "A big takeaway from the rally for me is that everyone is different, but we need to learn to respect and embrace other people's differences rather than looking down on others for their differences."