Mission Day sparks "courageous conversations"
In 1976, President Gerald Ford established Black History Month to commemorate the too often overlooked contributions that African Americans have made to our society.
To celebrate this month, on February 26 Walsh Jesuit held a Mission Day that included a diversity assembly, group discussions and Mass. The students were taken to the Dome to watch a video entitled "For Us by Us." The film presented candid accounts of successes and challenges that students of various ethnic groups and perspectives encounter at school. Although holding student attention can be an issue during assemblies like this one, the students were so engaged that the only sound echoing through the Dome was the film's audio.
The in-house video was completed in less than a month. Vice-President for Equity and Inclusion Mrs. Kaneshia Crenshaw worked with Mr. Charles Korecki, technology support specialist, to help with the recording, editing, and other technological aspects of the video. She believes that the documentary will be "a useful tool in the future to spark courageous conversations."
The students featured in the film were extremely proud of their work but also were anxious about potential negative responses. Despite his concerns, Dennis Butts, a freshman, decided to participate to raise awareness of issues regarding racial stereotypes. He stated, "This is just a drop in the water bucket, but it's an amazing start."
After watching "For Us by Us," the seniors met in the Chapel to hear a presentation by Mr. Brian Anthony from the Diversity Center of Northeast Ohio. He spoke to the students about his experiences as a black student in a predominantly white private high school. Companions groups then participated in various activities, including brainstorming a list of words associated with several ethnicities or political identifications.
"Everyone was 100 percent honest with the words [they contributed]," said senior Michael DeSciscio. As a result, students were encouraged to recognize that they hold or at least know of common stereotypes regarding a wide range of peoples and beliefs.
At the same time, freshmen, sophomores, and juniors went to their Companions groups to reflect on the video via a series of discussion topics and activities. Some groups used the entire time together to have conversations about what they had heard.
Most students liked the video. Katherine Malynn, a sophomore, felt that it did not sugarcoat the struggles that her classmates faced and, because of that, it was really eye-opening.
Contrastingly, many students found a statement about the Pledge of Allegiance to be controversial. Some thought the rewording of the pledge by a student was disrespectful, while others were empathetic or were indifferent.
In general, the responses to the activities were positive. Students participated in an activity sometimes referred to as the "Privilege Walk" or the "Privilege Awareness Circle." Students stood in a circle while the moderator read a series of phrases, such as having parents who attended college or having the day off school for the student's religious holiday. If the phrase applied, the student was to step into the circle.
Bridget Sweeney, a sophomore, enjoyed this activity and stated, "It made me realize how lucky I am to have had so many opportunities in my life."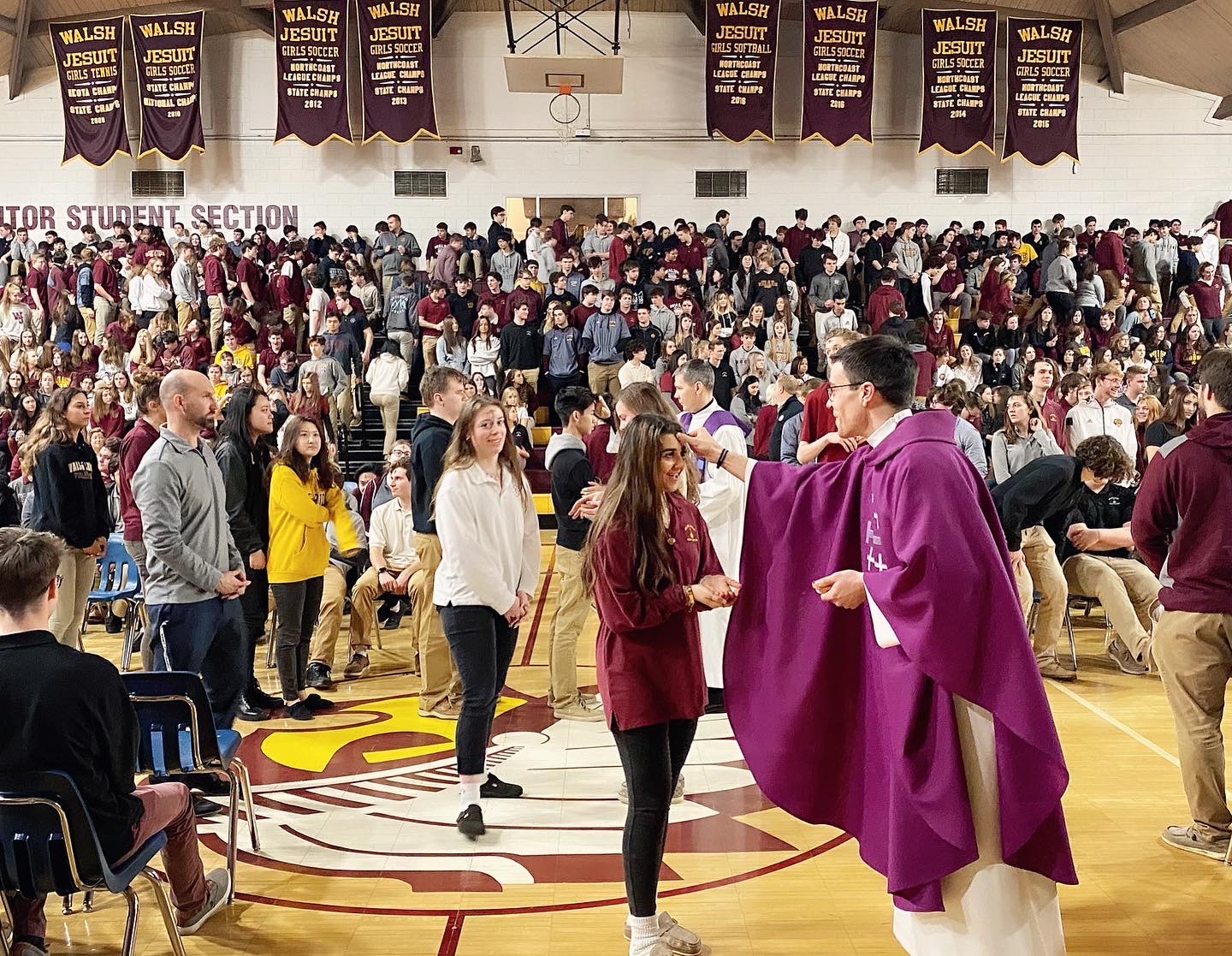 Junior Jeremy Grimm did not share Bridget's views. "It seemed like it was trying to make me feel bad about the blessings in my life. It was really awkward for everyone… I wish they would have cut that for sure," he said.
The day concluded with Mass in the Dome to bring the students, faculty and staff together to celebrate our solidarity as children of God.
Whether students appreciated the presentations and activities or felt uncomfortable with them, the purpose of the Mission Day was accomplished. As Mrs. Crenshaw stated, "The structure of the day was mission centered.  Not only did we hope to challenge perspectives but to create consciousnesses and compassion around the various topics in the video."