Traffic tantrums yield no change
Late to work again, but you can't back out of your spot in the school lot because a row of cars is lined up behind you. Finally making it to the exit, you wait…and wait…and wait to make a left onto Wyoga Lake Road. After what feels like an hour, a driver stops and lets you out. But…another delay. You start slowly inching up to the four-way stop at Wyoga Lake and Seasons Roads as CVCA cars and busses join the traffic jam.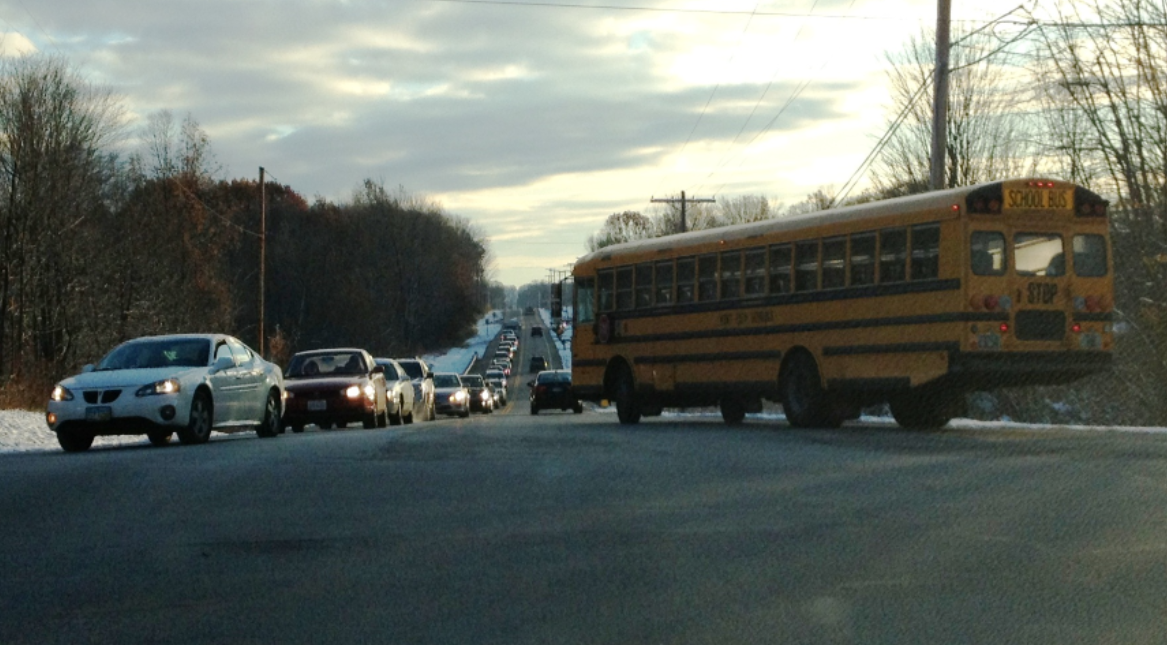 Lexie Erdmann, a junior, described her views on the issue: "The traffic is very bad and takes a long time because there are too many people leaving at the same time. They need a light instead of a four-way stop [at Wyoga Lake and Seasons] because nobody ever knows what they are doing."
After thousands of complaints, officer Ed Dennis, our school resource officer and a member of the Cuyahoga Falls Police Department, had a discussion with the WJ Board Security Committee to see if there was any way to improve the traffic situation. Dean of Students Mr. Gerry Rardin explained that, after a study by the city was completed, Wyoga Lake Road was found to have the highest number of traffic accidents in Summit County.
Because the study determined that driver inattention is the primary cause of accidents, no changes will be made regarding traffic signals near the school. In addition, it was discovered that the only times of heavy traffic are between 7:30 to 7:55 am and 2:45 to 3:10 pm on weekdays, which does not justify major changes to the roadway.
Sophomore Kyra Dossa deals with this frustrating situation every day. She said, "I think the traffic is really dangerous. There is too much traffic and not enough people paying attention."
Add to the mayhem that some students are inexperienced new drivers. In addition, students text and make phone calls while waiting in traffic which causes fender benders.
The school also explored the option of routing the traffic to have CVCA students exit and go north to Seasons while Walsh Jesuit traffic would route southward to Steels Corners. In the end this was not feasible because of enforcement issues.
"
Because the study determined that driver inattention is the primary cause of accidents, no changes will be made regarding traffic signals near the school.
Annie Harris, a junior, who has been driving for a year, stated, "I think the traffic is unpredictable and, if I am running late, traffic feels more congested and I can't get to school on time. If I leave even two minutes late, there is a difference in traffic."
Students rushing to get to school anywhere between 7:35 and 8:00 will be stuck in traffic for at least 15 minutes. Last year the traffic was not as bad because CVCA started at 8:15. This year, they have adjusted their time to 7:50 which has caused the roads to be more congested. Coming down Akron-Cleveland Road (a.k.a. State Road) is usually the worst and most jammed up.
Tyler Capron, a junior, said, "It takes me 20 minutes to get to school, and I only live 5 minutes away."
This is only a problem on the days CVCA starts at the same time. When CVCA has late start on Thursdays, there is barely any traffic. This is why, if one of the schools started a little before or a little after the other, the traffic flow would be way faster.
For the time being, the traffic situation will stay the same. Drivers have to remember to be patient and pay attention to the roads. Allow enough time in the mornings, and do not count on getting to school at the last minute. Your reaching your destination is no more urgent than it is for others.
Leave a Comment