WJ responds to the COVID-19 pandemic
The news had been swirling for weeks. Still, when senior Kaden Smesko told Ms. Duarte, Writing Lab tutor, that Governor DeWine had announced all schools would close for at least several weeks beginning March 24, she was shocked. An international pandemic was having an impact on virtually every aspect of life for Ohioans and people around the world.
In early January, 2020, China identified a new virus which quickly spread throughout the city of Wuhan and the surrounding province. On January 30, the World Health Organization announced that the novel virus was an "international concern" and several days later named it coronavirus disease 2019 (COVID-19). Within weeks the virus had spread to 24 countries, eventually being reported on six continents. To date over 5 million have contracted the disease worldwide and nearly 330,000 have died. In the US, the toll has reached 1.5 million and 95,000, respectively, and as many as 26 million Americans have filed for unemployment assistance.
Eventually 42 states issued stay-at-home orders, beginning with California on March 19. These proclamations banned mass gatherings and closed nonessential businesses, doctors' offices, and churches and schools among others. Government officials and health care experts hoped to minimize the spread of the virus and prevent hospitals from being overwhelmed.
Although the faculty and staff at Walsh Jesuit had been advised to begin preparing for the shutdown, the order became a reality sooner than expected. A faculty/staff retreat scheduled for Friday, March 20, was scrapped so administrators and teachers could share ideas about how to move to distance learning. Parents and students were informed that the school was to be closed immediately and to await information on how classes would proceed.
Since then, Mr. Karl Ertle, the WJ president, has had to deal with a multitude of concerns. These included the health and safety of the Walsh community, the situation with IPERC students who wouldn't be able to return home over Easter break, the successful pursuit of academic excellence and, most important, the fulfilling of the school's Jesuit mission. In addition, the entire campus had to be disinfected by the maintenance crew, and access to the building was strictly limited.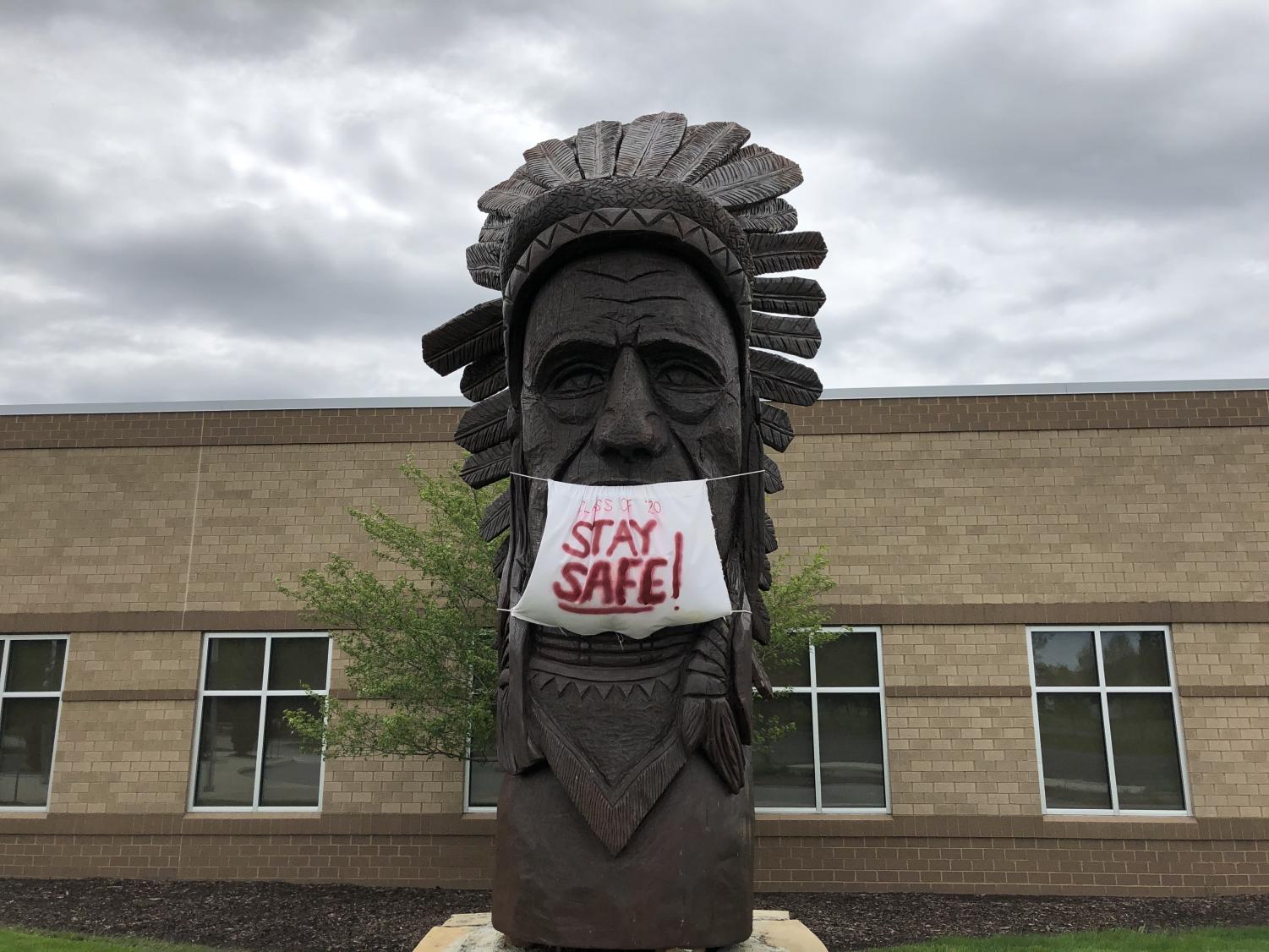 Assistant Principal Mrs. Jane Rafferty has been "amazed at how the WJ community came together at this time." She added that it has been "really just fantastic" how the faculty and staff have learned to use technology to ensure that students have a quality educational experience. She described them as "really true heroes."
Along with missing the personal interactions with classmates and teachers, students have had to adjust to new methods of learning. Assignments have been sent and completed through MyWJ, and teacher-student communication has taken place through e-mails, Zoom and other digital platforms.
Senior Tessa D'Errico admitted that distance learning has been a challenge. She misses the opportunity to learn from teachers and fellow students in the classroom. Classmate Molly Coyle agreed, adding that being with friends is an important part of the high school experience. "Now it's just about doing assignments," she added.
Kaitlin Mohlenkamp, a junior, had a different reaction…at first. Although she did feel bad for the seniors, she was "a bit excited" to stay at home for a while. "I wouldn't say the same thing now, though, with events like the Irish Studies trip being cancelled along with other summer trips I had been looking forward to." Nevertheless, Kaitlin said, "…I know everyone's got to play their part to help."
Among the major questions the school has had to deal with is the end-of-year activities for seniors. Prom, usually scheduled for May when the seniors finish classes, has been postponed until summer. The traditional Senior Experience was changed to include a week of reflection on one's future vocation or how the Graduate at Graduation profile has impacted them. They then submitted papers online and met in groups of five for a Zoom meeting with an administration, faculty or staff member.
"
Keep praying, keep calm, and keep yourself and your family healthy. Know that there is another side to this."
— Mr. Ertle
How to properly honor the Class of 2020 has been a special challenge. A video congratulating the class was posted with messages and letters from faculty members, while another announced Senior Awards. Baccalaureate Mass will be live streamed from the Chapel on Friday, May 30. A Commencement Ceremony will be posted online at 10:00 a.m., followed by the conferring of diplomas as graduates drive along the WJ driveway in a Celebration Ceremony beginning at 1:00. Faculty will line the sidewalk alongside the school to congratulate the graduates.
Needless to say, these necessary adaptations due to the pandemic have been a great disappointment to the entire Walsh family. Senior Natalie Chase spoke for many when she said, "I did not expect to actually never get to walk through those [WJ] halls again. That was hard for me to accept."
Looking to the fall term, the administration is not sure what lies ahead. Mr. Ertle said, "We are listening to the governor's orders and observing other school districts in the area to make a final decision."
The Pioneer interviews ended with words of encouragement. Mr. Ertle urged," Keep praying, keep calm, and keep yourself and your family healthy. Know that there is another side to this."
"Be kind to yourself and do something for yourself that you enjoy. And don't feel guilty about it!" advised Mrs. Rafferty.