Women's varsity bowling brings "300 Energy"
A perfect strike! Teammates give air high-fives and congratulate the bowler with the team's motto, "300 Energy." With 12 strikes in a row, a bowler can score a perfect 300 points in a single game. The WJ women's varsity bowling team had a surprising and incredible season full of "300 Energy" moments.
On Saturday, February 13, the Lady Warriors competed in Sectionals, placing 7th out of 14 teams. Sadly, they did not advance, but sophomore Lily Fratantonio placed 4th in individuals, which qualified her to advance to Districts.
The team won 4 matches and lost 5 this season. They placed 9th in the Women's Christmas Tournament, held at Stonehenge Entertainment Center on December 27, the only tournament they were able to compete in this year.
One of the challenges the team faced was that many of the varsity bowlers were new to the sport. These new faces include juniors Olivia Saunders and Emily Wilson, sophomore Lily Fratantonio, and freshmen Anna Solomon and Mary Zackasee. They joined veterans senior captain Suzette Gissinger and juniors Natalia Griffiths and Faith Moore.
Natalia and Lily consistently threw high scores, carrying the team during difficult matches. Also contributing to the team, Suzette was "a great leader and great booster of morale," said Faith.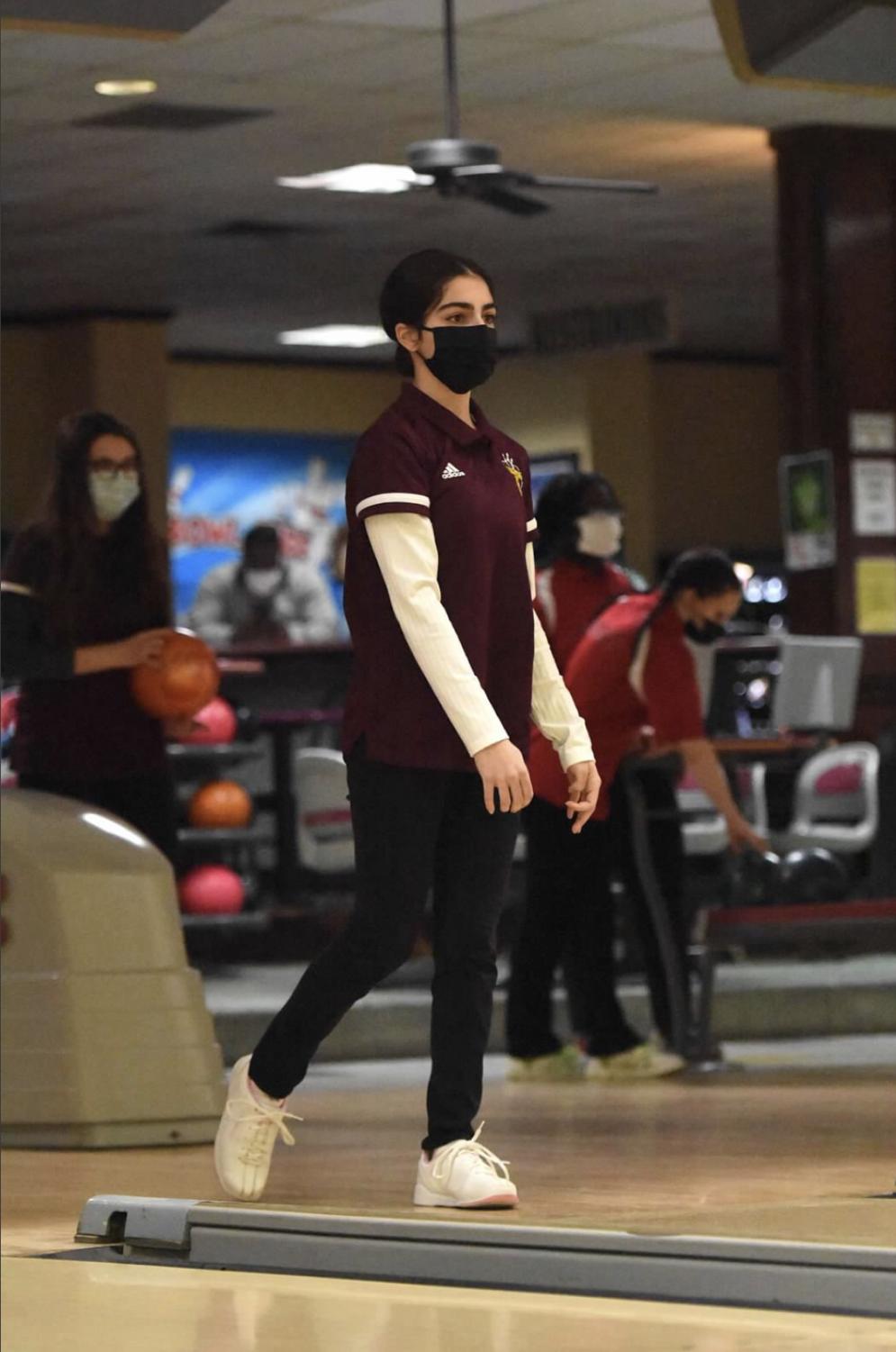 Many members of the team agreed Hoban was their most challenging opponent. On February 7,  the Warriors were barely defeated by Archbishop Hoban with a final score of 1047 to 1514.
Mary stated, "Hoban has four coaches and focuses much [more on] sports than academics. Many of their girls are seniors with experience." But such tough matches did not hold the bowling Warriors back.
Everyone on the team helped each other through the season. Veteran players were more than willing to give throwing tips to newcomers. Suzette even helped players find proper shoes and get fitted for bowling balls. Coach Mark Schweter noticed the delight and newfound determination the novice bowlers showed when they got new equipment.
"The bowling team is laid back, and we all work to help one another improve. We all have an amazing bond with each other," reflected Faith when asked about the atmosphere during practices and matches. "Joining the bowling team was one of the best decisions I ever made because I got to know [my teammates]," added Emily.
Celebrations were common after matches, and everyone was willing to boost team spirit in any way that they could. Lily bought everyone bowling themed socks, and the many shared their baked goods.
But a challenge for the team, as with everyone, involved Covid. The pandemic  managed to dramatically change even a non-contact sport. Teams were encouraged not to walk around during matches or tournaments. Bowlers would only touch their own ball to eliminate spreading germs.
"You can't socialize as much with other teams, and each team kept to themselves," noted Suzette, who needed to quarantine for most of the season. "The number of games had cut down significantly," she added.
"
The pandemic managed to dramatically change even a non-contact sport. "
In addition, spectators were not allowed at matches or tournaments this year. Nothing was more disappointing than bowling a best game and not having family and friends to witness it. "This notably hurt team morale during big matches and senior night," expressed Faith.
In order to boost morale and enable fans to follow the team, Coach Schweter, coach of both the men's and women's teams for the past 3 years, live-streamed every match and tournament. These streams allowed even relatives outside Ohio to watch matches they usually could not. "My aunt was able to watch from Massachusetts!" recounted Natalia.
Even in a hectic season,  the team was able to learn and grow. "They all have strengths and weaknesses… [and] all have so much potential… My hope is that the majority of the team returns next year, where I hope to have a more normal season," reflected Coach Schweter.
No matter what the 2021-2022 season may bring, the Warrior women's varsity bowling team will always show up with "300 Energy."