All rise for Mock Trial's spectacular year
How would you decide a case involving a small business seeking COVID-19 monetary compensation from the state government? That is exactly what this year's Mock Trial participants had to do. The Ohio Center for Law Related Education's high school Mock Trial case for 2022 was based on a fictional business owner, Hollis Fitzpatrick, whose generational family restaurant was forced to close during the COVID-19 pandemic.
Teams argued whether or not the government's pandemic restrictions caused the closure of Fitzpatrick's restaurant and whether he deserved compensation from the state government. The "relator" of the case argued for Fitzpatrick; the "respondent" argued for the state.
Sophomore Anna Solomon explained, "The terms [relator and respondent] this year were different than the typical 'prosecution' and 'defense' terminology that we're used to."
Competitions are set up to mirror a real trial, freshman Grace Campagna noted. She said, "The trial is set up with two opposing teams from different schools competing against one another. One team plays the roles of the relator, while the other portrays the respondent."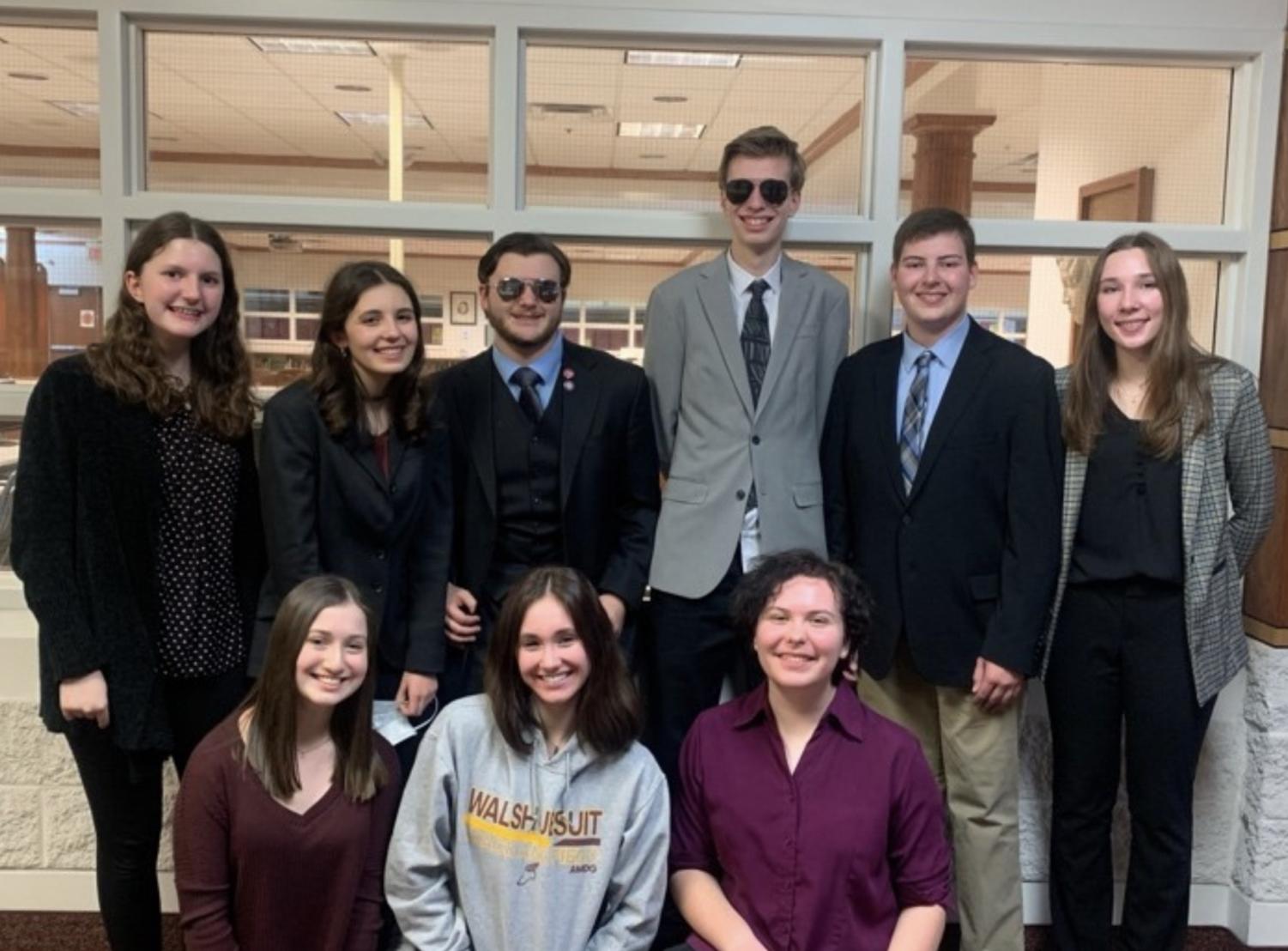 Senior Kathleen Tracy appreciates the realism of the event. "I do Mock Trial because it provides an atmosphere in which I can explore the justice system and the legal profession," she said.
Mock Trial teams are comprised of four attorneys, six witnesses, one timekeeper, and one bailiff. This year, WJ was able to form three teams.
Mock Trials in the Summit County district are held at the Akron Municipal Courthouse every year, though due to COVID-19, they have been virtual since the 2020 season ended. The district competition took place on January 14, 2022.
One of the three teams who competed at the district level this season advanced to regionals. Elle Burkhalter, a sophomore attorney, had high hopes for herself this year. "Last year, my team went all the way to regionals. This year we hope to get even further," she said.
"I think I did well [at districts]," senior Kevin Karl said. He was also an attorney on this year's advancing team. "No matter what was thrown at our team, they kept going. It was honestly amazing to watch."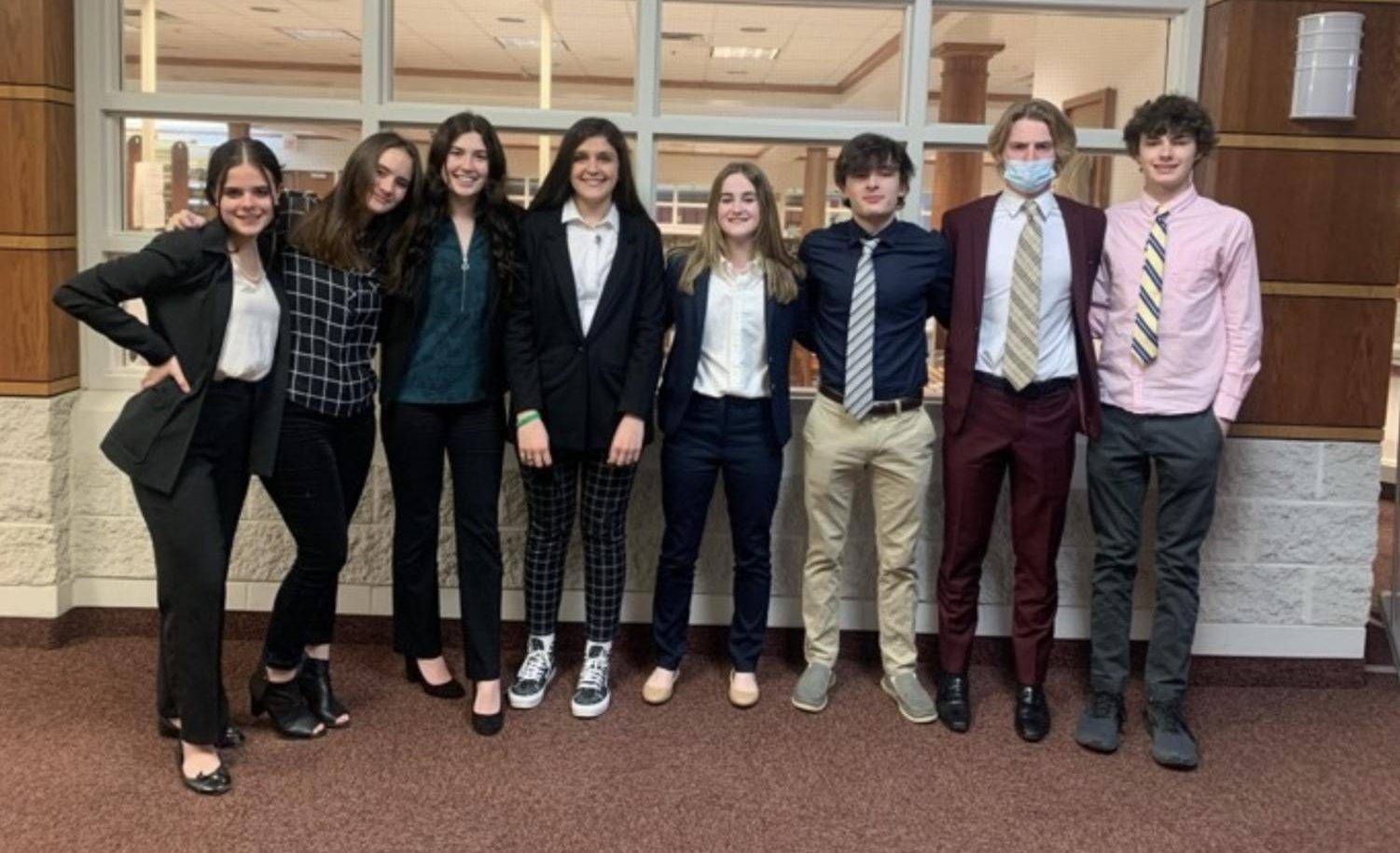 Kevin must have performed as well as he thought, because he, along with sophomore Sydney Borges, won Outstanding Attorney awards at this year's district competition. Sophomore Brendan Elbin, senior Brooke Massaro, and junior Jessica Osciak each won Outstanding Witness awards.
"My favorite part about moderating Mock Trial is watching the students flourish in their individual roles," said Mrs. Catherine Marquard, English teacher and team moderator. "Watching the students learn how to think quickly on their feet, speak publicly, and use critical thinking skills is remarkable and extremely impressive to see." A record number of students have joined the group to experience this learning curve.
The WJ team began practicing in September and met at least once a week until the trial. Then they began meeting two to three times every week, combined with meetings outside of school between attorneys and witnesses. By the time the trial arrived, teams had spent hours upon hours together.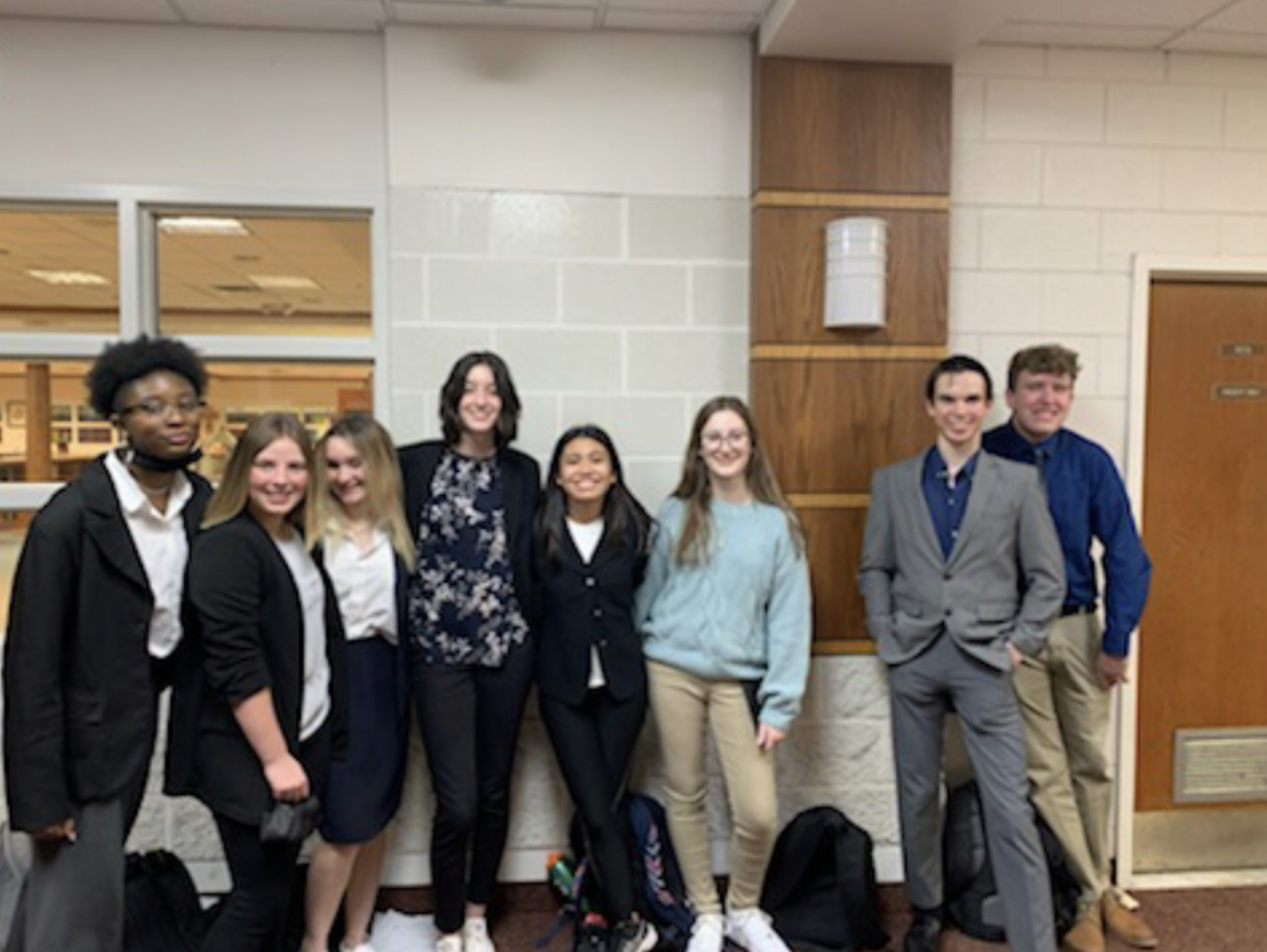 "I'm grateful to have worked with my teammates, Jack, Julia, Ali, and Brooke, for the last couple of years," Kathleen said. Kathleen was referring to senior captains Jack Mercer, Julia Lasky, Ali Huston, and Brooke Massaro.
The verdicts of each trial were decided by two professional attorneys or judges from the Akron area. This placed a lot of pressure on the students. Elle said, "The stress of difficult trials really brings the team together in an indescribable way."
View Comments (2)