Teaching with toothpicks
Minimum requirements: 1,000 toothpicks. 3.5 ounces of Elmer's white glue. 50 centimeters tall. No more than 15×15 cm wide and deep. One goal: who can build the lightest, most durable toothpick tower.
When Mr. Thomas Herrmann, physics teacher, told his 9th period AP Physics class that a tower built by a former student held 1,427 pounds, everyone's jaw dropped. Some didn't believe Mr. Herrmann.
Junior Kayla Flory said, "At first I was in disbelief, but he showed us the video for proof—I was shocked and intimidated."
An impressive standard was set. The classes knew this would be no ordinary project. The students were given a few weeks to brainstorm, gather supplies, design, build, test, and problem-solve, and on January 31 the towers were due.
Some students, such as junior Matthew Serdinak, embraced the challenge from the start. Matthew said that he loves "designing and building things that work." Working whenever he had free time, he carefully crafted his tower. His hard work paid off in the end. Matthew's tower held the most weight overall — earning him over a 100% for the project and bragging rights.
Others opted to build simple, light towers in hopes of holding just a few pounds. Nevertheless, even a light tower could hold around ten times its own weight.
Juniors Trace Campana and Brady Eggleston were leaders in this approach. Both of their towers were triangle, truss-like structures, compromised of fewer than 100 toothpicks.  Trace remarked, "I embodied the phrase 'work smarter not harder,'" and Brady did the same.
The toothpick towers came in all shapes and sizes. Students utilized various shapes for their towers—squares, triangles, hexagons, and octagons. Some used flat toothpicks. Others rounded. A few squared.  No two towers looked alike, showing how wonderfully complex and unique each human brain is.
While every tower looked great, only one thing really mattered… Whose was the strongest?
The testing procedure was seemingly simple: literally stack weights on top of each tower until it collapsed. But millions of complexities loomed around testing time. "It's all about balance," said Mr. Herrmann. "You develop it." This fact proved to be true through testing time. Many people's towers toppled over because they were off balance — even when they were strong enough to hold the weight.
As senior Frank Qin stacked weights onto his tower, Mr. Herrmann pointed out a flaw in his tower. Mr. Herrmann said, "At an angle—there's some sheer forces and torques that can be detrimental to [Frank's] tippy tower." (It takes a physics student to understand!)
Frank, who's "tippy tower" ended up holding 42.5 pounds, said, "I am pretty satisfied. I learned a lot. If I had a longer period of time, I would've done things differently."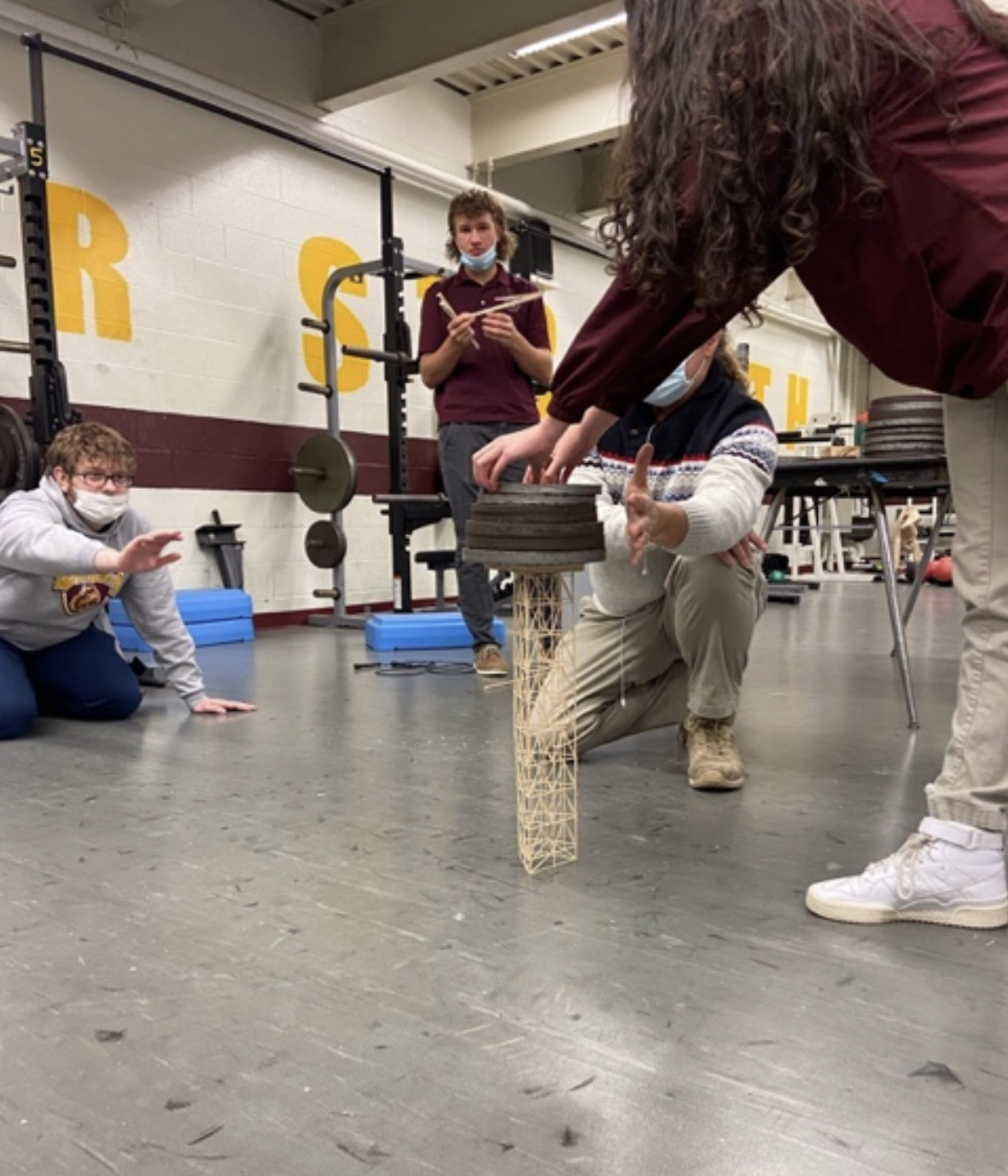 As testing came to a close, the winners emerged. Junior Tom Biery's tower held an astonishing 1,290 times its own weight. His simple yet incredibly effective 61 gram tower supported 172.5 pounds.
Tom described his method: "I just kinda copied the design I've seen in bridges and stuff — the triangles staggered on each level — and just made that as I went along."
Matthew Serdinak's tower, at 149 grams, held the most weight overall. His beautifully crafted tower held an astonishing 385 pounds.
Matthew offered up some tower-building tips: "My advice would be three things:  one — get toothpicks that are square so they fit together. Two — cut the points off of each toothpick. Three — use as many of your toothpicks as possible in the vertical position." (Take note future students!)
At the end of the day, all the towers ended up the same way: a mere pile of collapsed toothpicks and dried glue. Even so, this project was a way to bring some excitement and real-life application into the classroom.
There is no project like a physics project.
Leave a Comment