The inspiring Amanda Gorman
At the age of 22, Amanda Gorman made history when she recited her poem "The Hill We Climb" at Joe Biden's 2021 presidential inauguration. Her words moved the nation, inspiring countless Americans and providing a voice to those who would otherwise go unheard.
Gorman was born to a single mother and grew up in Los Angeles, California. As she approached kindergarten, she was diagnosed with an auditory-processing disorder that made it difficult for her to pronounce the letters "h" and "r." However, Gorman did not let this impact her love for the English language, and at the age of five, Gorman immersed herself in poetry. Writing poems quickly became an outlet through which she could work to overcome her linguistic challenges. In an interview, Gorman stated that she "actually started writing poetry before [she] started reading it," according to an article in the online magazine Biography.
Growing up, Gorman attended a private school in a middle-class suburb while her mother taught middle school English in an impoverished neighborhood with predominantly black and hispanic populations. As a result, Gorman learned about the disparities in educational opportunity, and her passion for advocacy was born.
Throughout her teen years, Gorman produced work that addressed Black identity, oppression, feminism, and marginalization. Her calls to the nation drew attention to her writing, helping her procure the title of the first National Youth Poet Laureate in 2017.
This triumph was a turning point in her career, as the Library of Congress asked Gorman to kick off one of their events with a reading. She read her poem "In This Place (An American Lyric)" and immediately transfixed her listeners with her passion, rhythm, and presence. That night, Dr. Jill Biden was in the audience and eventually asked Gorman to recite a poem at her husband's inauguration.
"
[Gorman] made me realize that telling the story of myself and my ancestors should not be too uncomfortable to hear."
— Amanda Riley, '23
Since her national debut, Gorman's reach across America has been expansive. She's accepted countless speaking engagements, been featured on magazine covers, and has appeared on talk shows with figures such as Oprah, Trevor Noah, and Jimmy Fallon. Because of her winning personality, viewers quickly fell in love with her. Two volumes of her poetry reached the top of Amazon's Bestseller List eight months before they were even published.
Gorman's surging popularity recently was noticed in the Walsh Jesuit community. In sophomore English 2, Mrs. Julie Puckett has included Gorman's work in her American identity and poetry unit after hearing her recite a poem during an NPR interview. Mrs. Puckett wanted to share Gorman's voice with her students in hopes to not only inspire them but also introduce them to a contemporary and diverse poet. She wanted "to breathe new life into the study of poetry and literature."
Sophomore Claire Kollin, one of Mrs. Puckett's students, enjoyed analyzing "The Hill We Climb" in an essay in which she highlighted Gorman's themes of togetherness, healing, and amendment. As a result, Claire gained a sense of hope and now believed that  "if we work together [and] worked hard enough, people in the future can just be who they are."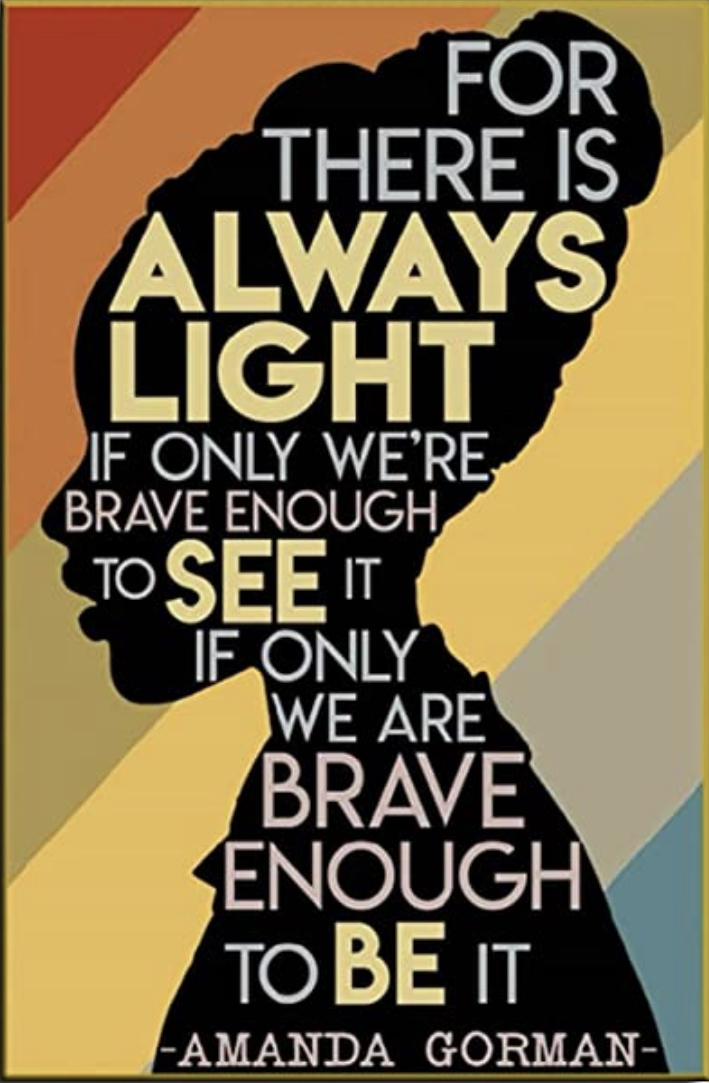 Similarly, junior Amanda Riley was ecstatic to hear about Gorman's inclusion in the Walsh Jesuit curriculum. She explained that she often finds herself frustrated because most of the literature taught is written by white Christian men. Gorman now provided someone Amanda could draw parallels to and find her voice own reflected. Most markedly, she mentioned a Ted Talk given by Gorman in which she shares the idea of "silent ancestors"— people who blaze a trail for those to come. Amanda declared that Gorman is her "silent ancestor."
Amanda stated, "[Gorman] made me realize that telling the story of myself and my ancestors should not be too uncomfortable to hear. I like to write poetry and she demonstrates how to give one's gifts to the world in a way that would inspires others. Having a voice that is strong enough to throw off the blanket of comfortability in any space is a beautiful gift."
Amanda Gorman and her poetry truly are gifts, and the world waits now for more ways she will inspire us.
View Comments (1)