WJ's Nutrition Club promotes holistic health
WJ's Nutrition Club is on a mission to promote empowered and holistic wellness among students. Led by moderator and science teacher Mrs. Kim Knauf and student leader Molly Sloan, a junior, the organization provides students with tips on how to maintain a healthy lifestyle through dieting, working out, and getting enough sleep.
The club doesn't stop at physical health; it also incorporates faith-based principles into its activities, aiming to connect knowledge of nutrition with spiritual nourishment so that members can live lives more aligned with God's desires.
Asked about the importance of the club, Molly shared, "I think that teenagers should be interested in proper nutrition because what we put into our bodies determines so much more than we can even imagine. Teenagers also see plenty of false advertising and marketing schemes on social media, so learning about proper nutrition can help us understand what products are beneficial to our health."
Mrs. Knauf is the perfect choice for the club's leader, possessing a master's degree in biochemistry and clinical nutrition, as well as being extremely passionate about the subject. The meetings have become increasingly popular due to informative discussions such as learning which resources can be trusted for health advice and different types of exercise — from strength training to cardio workouts.
"
I especially enjoy Nutrition Club because I am able to discuss new topics about nutrition that are relevant to teenagers.
— Maddy Humenik
Mrs. Knauf's devotion to the Nutrition Club and its mission is positively impacting students. Sophomore Lucia Chase praises the moderator's excellent knowledge of nutrition, noting that it has been instrumental in creating an uplifting atmosphere at meetings. A role model for many, Mrs. Knauf serves as the embodiment of what students can do when they look to nurture themselves in body and spirit and then look to serving others in the same way.
Lucia Chase agreed, saying, "I especially love Nutrition Club because Mrs. Knauf is extremely educated on the topic. It not just the great amount of knowledge she has on the topic but the fact that she lives this way and teaches us by example. She can help us really put ideas into action in the real world of our lives."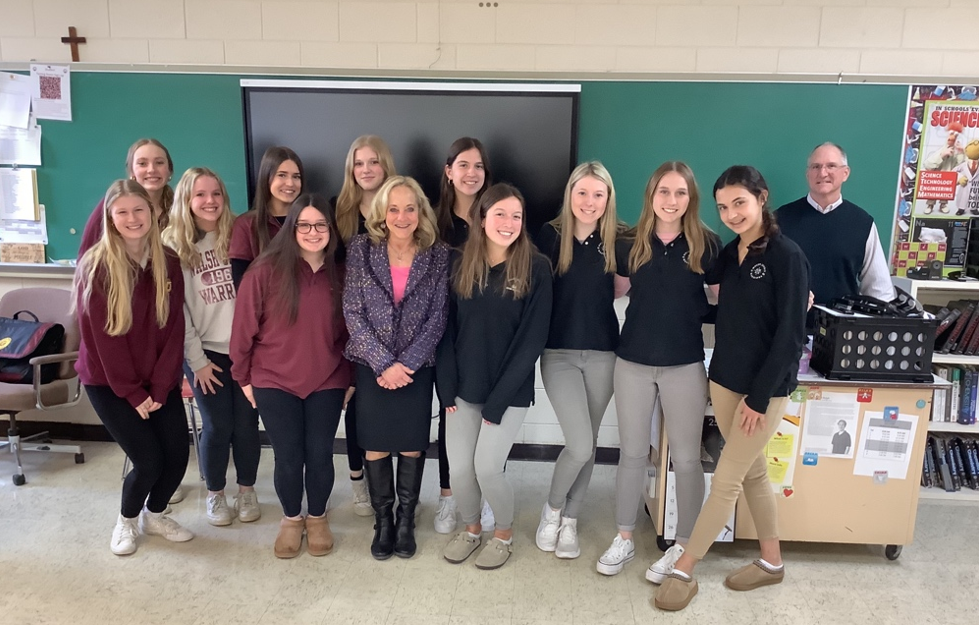 Sophomore Maddie Humenik expressed her love for the club meetings, saying, "I especially enjoy Nutrition Club because I am able to discuss new topics about nutrition that are relevant to teenagers. There is a huge need for balance these days. Between school, sports, friends, and so many other things it can be overwhelming. The club is a place to talk about all this and come up with a plan to be balanced."
In addition to meetings, the Nutrition Club aims to provide education about nutrition through school events and online initiatives through social media. Many of these projects are in the planning stages and will be shared with the school community as they become available. The initiatives will look to connect with students where they are to lead them to physically and spiritually healthier lives.
"I am looking to promote sustainable choices around healthy eating while still being able to cultivate an outlook that promotes balance in all aspects of life. A lot of students here are looking for the same thing, and it's my hope that the Nutrition Club can provide this," Molly said.
WJ's Nutrition Club is a testament to the importance of empowering students with knowledge of holistic wellness. By incorporating faith-based principles and promoting sustainable choices, the organization is helping students live healthier, more balanced lives.
The club meets every Monday after school from 2:45-3:30 in Room 204, where over 30 members gather to receive creative tips on nutrition.
View Comments(1)