Meet Fr. Fronk, WJ's President-elect
As students piled into the Dome for the 2023 Winter Sports Pep Rally, they were silenced for prayer—the usual way to start any important event. Yet, the prayer that day was no ordinary devotional. Instead, a man with a microphone led the students in a chant of "A-M! D-G!" to remind the whole student body that, indeed, all we do is for God.
Who exactly was the man behind the microphone of that spirited cheer? None other than President-elect Father Christopher Fronk, S.J.
Fr. Fronk grew up in Monaca, Pennsylvania, a town outside Pittsburgh. While in high school, he wrestled and played baseball before getting a job as an usher at a movie theater to pay for college. His favorite subject was history. And so, when he went off to college, he majored in political science with the intention of joining the Navy. But plans changed… sort of.
At St. Joseph University, a Jesuit school in Philadelphia, Fr. Fronk encountered the Jesuits for the first time. By his sophomore year, he had joined the Jesuit Novitiate and embarked on his ten-year process of Jesuit formation. The rigorous program allowed him to further explore his vocation through prayer, study, and ministry. Quite the change of plans.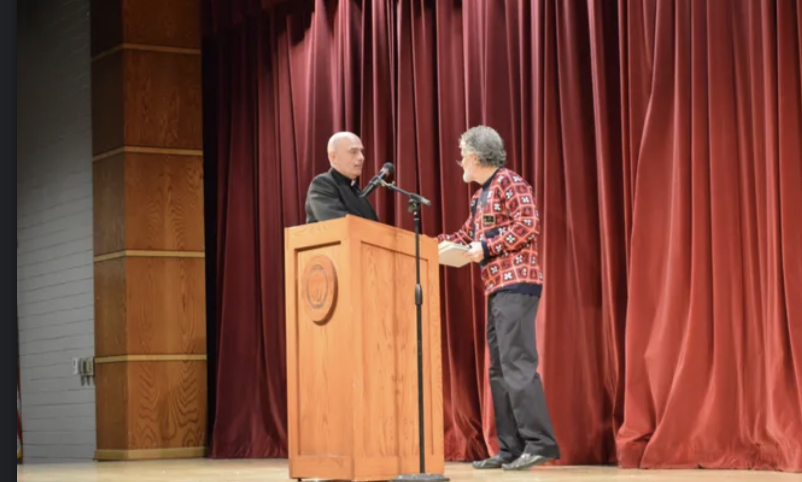 After his ordination in 1997, his original goal of enlisting in the Navy resurfaced when he joined the US Navy as a chaplain. As members of the military, chaplains represent their own denominations but care for all service men and women.
Fr. Fronk served with the Marines in Afghanistan from 2010-11 and made short trips to Iraq in 2015, 2016, and 2017. Overseas, some of his time was spent on land on the frontlines of active conflict while some was aboard an aircraft carrier.
Fr. Fronk brought spiritual healing and guidance to those in the midst of war. He described his experience overseas as the greatest thing he has ever done, but something he would never do again. He saw young people maimed and on their deathbeds seeking comfort and spiritual guidance—often too late.
These experiences compelled Father Fronk to join the field of education back in the United States. "I had to get to people at a younger age to help them develop the tools they need to answer the tough questions in life like 'What happens to us when we die?' and 'Is there a God?'" said Father.
"
I believe we should set standards high and encourage all students to meet them. I want to strive for excellence, not presume it."
— Fr. Fronk
In addition to Afghanistan and Iraq, he spent time in England earning his master's degree in theology from the University of London and also in Okinawa, Japan, with the Marines. He also lived and worked as president at Jesuit High School in New Orleans for a few years. "I miss the people most of all," said Fr. Fronk, when asked what he misses about his travels.
"My favorite place right now is Cuyahoga Falls, Ohio," he added, when asked if he had a favorite destination. But there's more to Fr. Fronk than his career and travels. He finds immense joy in spending time with his "best buddy," Shipmate. The Shorkie (Shitzu and Yorkshire Terrier mix) and Fr. Fronk joined forces 11 years ago. Pass by his office some afternoons, and you may even catch a glimpse of Shipmate, whom Fr. Fronk loves to take to work.
While walks with Shipmate take up much of his free time, Fr. Fronk also aims to learn to play the acoustic guitar, a feat he has been working to check off his bucket list for around ten years. As for entertainment, he mostly watches the news. He also admitted he is a fan of country music.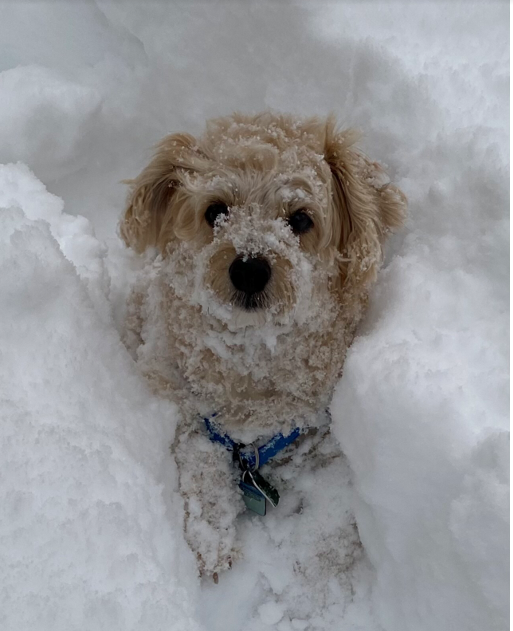 Now living and working in his "favorite place," Fr. Fronk said he is excited to take on his new role as president of WJ which begins July 1. Even so, he shared that he was initially hesitant about putting his name in the running. He ultimately made the decision after much discernment and prayer during which he recognized he has the toolset and ability to thrive in the position.
"I believe we should set standards high and encourage all students to meet them. I want to strive for excellence, not presume it," said Fr. Fronk.
He hopes to emphasize the mission and identity of Walsh Jesuit, an area he is familiar with as current Vice-president of Mission and Identity. "The more we embrace, the better off it will be for the community," he noted.
And so, it is no shocker that he encouraged all students to loudly proclaim an integral part of the Jesuit mission and identity before entering into a pep rally…
"A-M! D-G!"
For the greater glory of God
View Comments (1)