"Quizzin' Warriors" look to regional championship
"The best season we've had in the four years that I've been here, skill-wise," is how senior Tom Biery described the success of the Walsh Jesuit Academic Challenge team this year. The team has set their sights on winning regionals this May and, according to Biery, this may be the best chance they'll get in a long time.

MaryKate Miller, another senior and teammate, also credited the team's success to a summer of practicing and learning new information. "Most of the team is returning from last year mentally stronger," she said.

To improve their performance, the team practices individually by doing online quizzes and occasionally as a group by doing mock matches. Last year, the team finished the season with an 8-6 record before making a Cinderella run all the way to regionals. They continued their momentum into this fall by winning the Fall Tournament Championship and improving their regular season record to 11-3.

Channel 5 Academic Challenge

The team is led by senior National Merit scholars Tom Biery, who is the team captain, and MaryKate Miller. Both have been on the team for four years. Mr. Rybka, a freshman and sophomore Latin teacher, serves as the team's moderator.

According to juniors Ajay Khandekar and Anna Solomon, the team's best category is history, followed by geography and sports questions. However, they've improved in STEM questions (science, technology, engineering, and math) as the year has progressed.

Tom Biery has been the most reliable team member, scoring the most points this year. He was invited to participate in the National Academic Quiz Tournament after finishing 3rd overall throughout the fall season out of 180 participants at the individual level.

"I am very humbled and honored to be able to compete at such a high level on an individual basis, but at the moment I am focused on helping the team win regionals and hopefully go beyond them," said Biery.

When the team competed on Channel 5's Academic Challenge twice last spring, they suffered a tough loss by a mere 10 points to Avon Lake in the championship game. "That loss was really demoralizing, but I think it just makes us want it more this year," said Biery.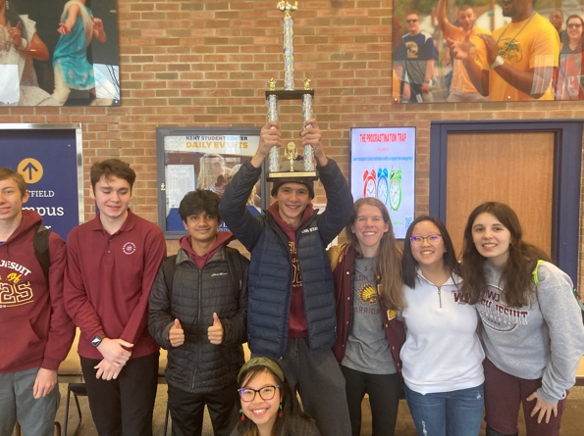 The "Quizzin' Warriors'" efforts have not gone unnoticed by their peers. Junior Ray Thompson, who is friends with several team members, said, "When I heard that some of my friends were going head-to-head with other schools and beating them in a trivia competition, I was very impressed."
Walsh Jesuit's Academic Challenge team will be competing in the regional championship this May on Channel 5 WEWS at 11:30 a.m. Visit the broadcast schedule on Channel 5 for further details as they are released.
Sophia Kim, a sophomore, encouraged the WJ community to lend their support to the team. "Please come out and support your Quizzin' Warriors. We would love the support and hope to share the sweet moment of victory with you!"
View Comments(1)