Ignatian Family Teach-In for Justice and Solidarity
Weekend event challenges students' worldview
"I want people to feel uncomfortable and be okay with it…take that uncomfortable feeling and do something about it," stated junior Emily Backo after attending the Ignatian Family Teach-In for Justice (IFTJ).
Emily joined two thousand people from Jesuit institutions across the United States, Canada and Mexico who gathered in Washington, D.C., November 4-6. At the event, teachers, college and high school students, priests and families joined together to learn about social justice issues that plague society. Hoping to impact the thinking of politicians and society at large, Emily shared, "While each one of us may … be one person, we can come together as a community to bring about change."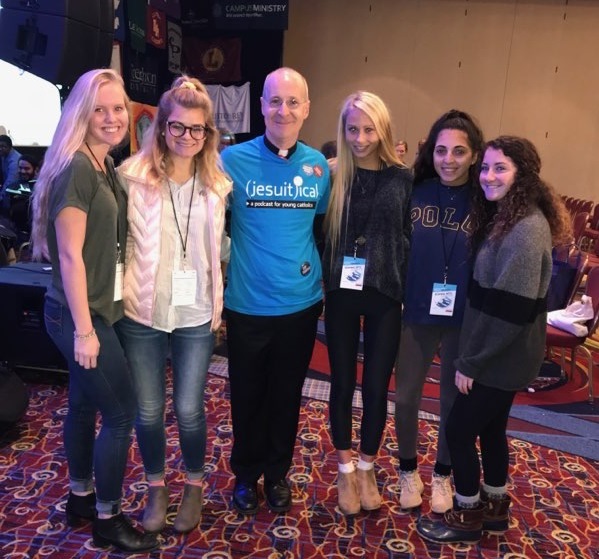 This year's IFTJ consisted of many speakers and breakout sessions to convey the real issues of social justice that impact the world. Topics included immigration reform, racial injustice, the LGBTQ community, physical and emotional abuse, the death penalty, human trafficking and poverty. Presenters shared raw and emotional stories about those who face injustice in their daily lives.
Senior Corinne Nykaza noted, "All the speakers were so passionate about what social justice issues they believed in. It made a listener like myself find something that I was as passionate about as they were."
Other students joined Corinne in wanting the WJ community to be more aware of social justice issues. Emily explained, "I want the Walsh community to be more aware of the criminal injustices that are happening not only…to the stereotypical regular offending adults or the people on the margins that we don't think about but to moms, dads and even kids as young as thirteen." She also noted that these injustices occur in our own communities.
Juniors Danny Reagan and Danielle Mazullo were moved by a session about the homeless population in society. Danny shared, "I want people to look at the homeless as people and real humans with a name and not just defined by the word homeless." Danielle added that she really wants to go on Labre more, especially now that she has a different view of those who live on the streets.
"
Too often I think we as a school fall into the trap of thinking that being 'men and women for others' simply means being 'nice' to each other…"
— Mr. Dipre
Students also had the opportunity to meet with some of the staff members in Senator Sherrod Brown's office. There they shared what they had learned about immigration reform and racial injustice in the criminal system and why they felt so passionately about social justice. Mr. Tony DiPre, theology teacher, expressed, "Hopefully it motivates our students to continue similar efforts [such as] writing, calling or even meeting with representatives again in the future."
Mr. DiPre went on to emphasize, "Fundamentally, my goal is to try and teach Jesus' Gospel message in a way that disrupts, challenges, and interrupts our all-too-common privileged worldview.  Too often I think we as a school fall into the trap of thinking that being 'men and women for others' simply means being 'nice' to each other, or that being a good Catholic/Christian simply means going to Mass or on retreats like Kairos."