The meaning of "ruwach"
Bishop Perez celebrates Mass of the Holy Spirit at WJ
Senior Julia Gattozzi described Bishop Nelson Perez as very "personable" during his visit to Walsh Jesuit. This was because after the Mass of the Holy Spirit he stood outside the exit, waiting to shake every students' hand as they spilled out of the Dome.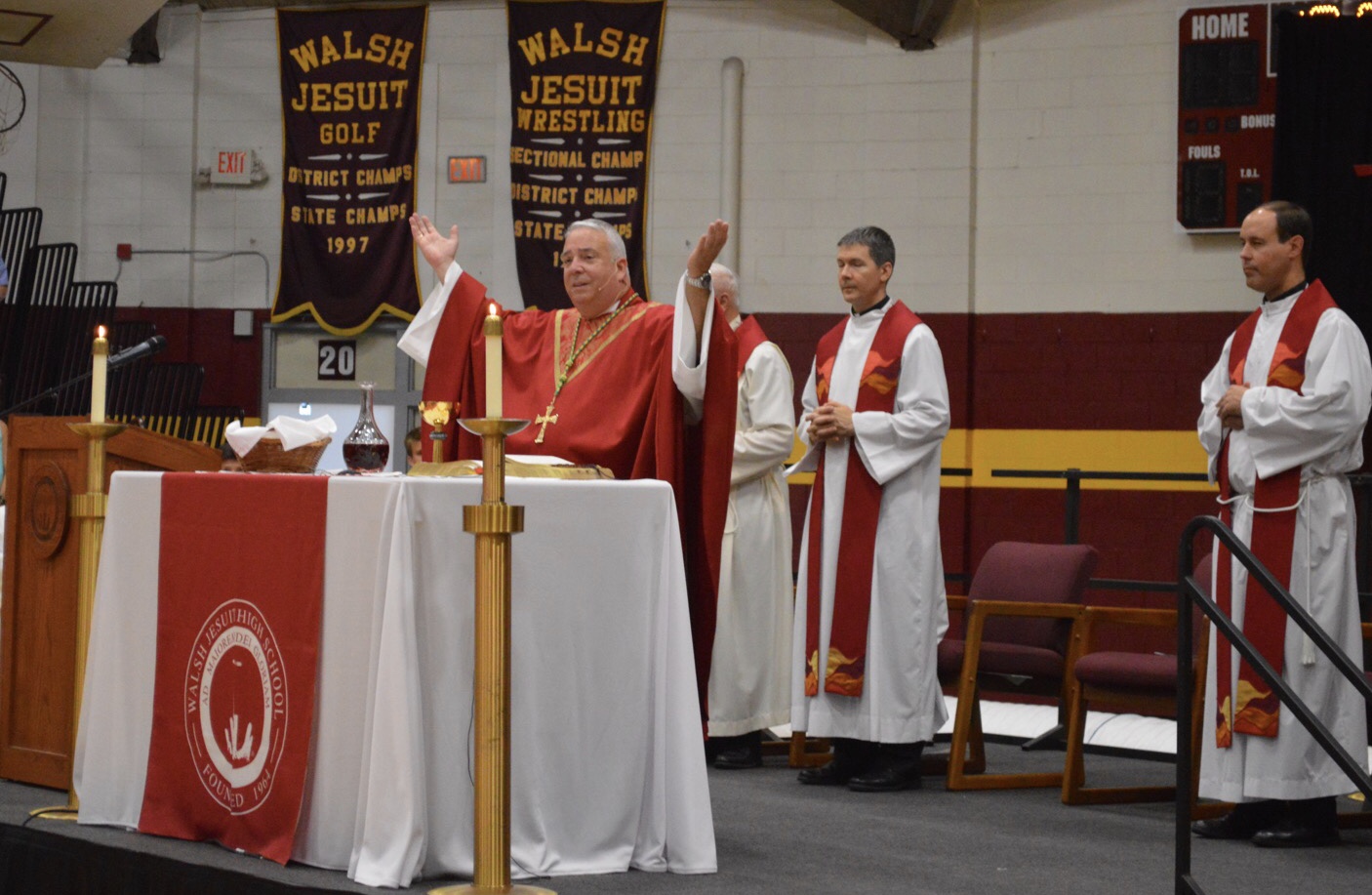 Bishop of the Cleveland Diocese for about a year now, Bishop Perez has had intimate ties to the Catholic Church since birth. His parents were refugees from Cuba and were assisted by Catholic Charities in Miami where he was raised. Throughout high school, Bishop Perez admitted that he only "went to mass from time to time" but was never a non-believer. It was in his later years of high school and college that his faith began to grow to where it is today.
As a result of his own teen experience, Bishop Perez recognizes that the students at Walsh Jesuit are all at different places in their faith life, but he was excited to celebrate mass because "for a moment they were all in the same place." He urged students to "never allow anyone to take away their enthusiasm" for their faith and other passions.
During his homily at mass, the bishop also gave other advice to students regarding their faith: "Never, never, never! – I mean never! – underestimate the power of the Holy Spirit working in you, through you, and despite you."
Kaitlyn Lo, '20, stated that Bishop Perez's "homily was absolutely inspiring" and that it gave her "a different perspective on the Holy Spirit's work through [her]."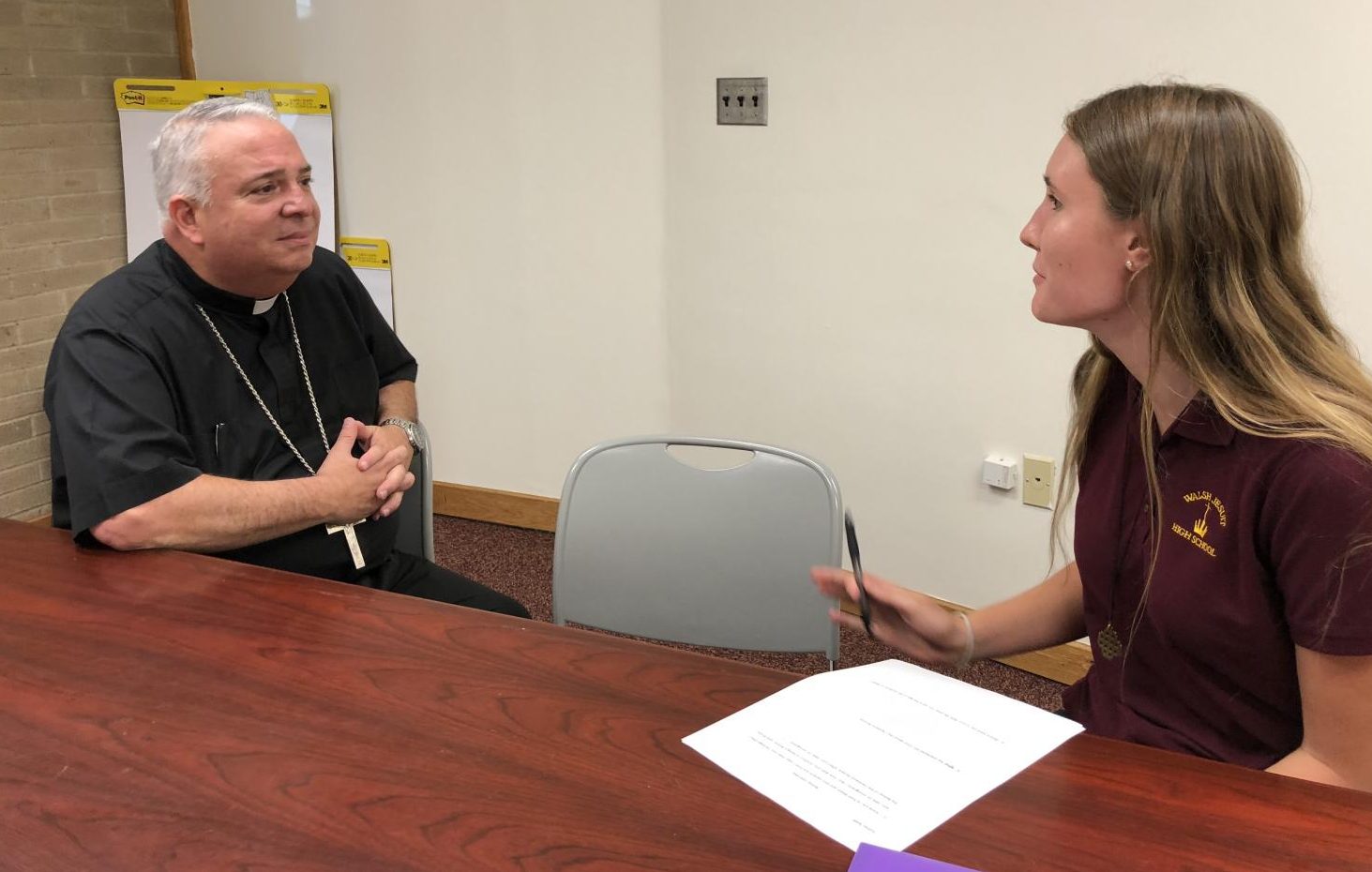 In an interview with The Pioneer after mass, Bishop Perez related his emphasis on breath during the homily to the environment. The bishop had asked students to blow on their hands. He then explained that they were feeling "ruwach," the word used for both breath and spirit in the Old Testament. "There's an intimate relationship between us and the environment. In fact, it's the environment that's allowing us to breath right now," he explained. He also explained that because of this intimate relationship, there is a co-responsibility for all humans to take care of the environment together.
In addition, Bishop Perez shared his belief that Catholic schools are "vitally and essentially important" to the work of the Church. He explained that the combination of a great education and its roots in the tradition of faith are what make Catholic schools so great.
"
Never, never, never – I mean never – underestimate the power of the Holy Spirit working in you, through you, and despite you."
— Bishop Nelson Perez
On a related topic, the bishop pointed out that non-Catholic students have a role in Catholic communities like Walsh Jesuit: "They're part of the Christian family and loved and embraced and appreciated for that."
Asked what his favorite thing about the Cleveland Diocese has been so far, Bishop Perez responded with "the warmth and genuine friendliness of people." He also stated that "for those that have spent their whole life [in Northeast Ohio], that's the way they are."
When questioned what he likes to do in his free time, the bishop quipped, "How about nothing?" On his only free day, Thursday, Bishop Perez likes to "actually be free." During this time, he likes to read, watch movies, spend time with friends, and play music.