Eagle Scout project honors Mr. Truax
Eagle Scout finds a special way to be a "man for and with others"
Teenagers commonly spend Saturday mornings sleeping in and then binge-watching their favorite Netflix shows. However, for senior Kaden Smesko and his enthusiastic bundled-up volunteers, 8 a.m. on October 26, was the perfect time to tackle an ambitious Eagle Scout project.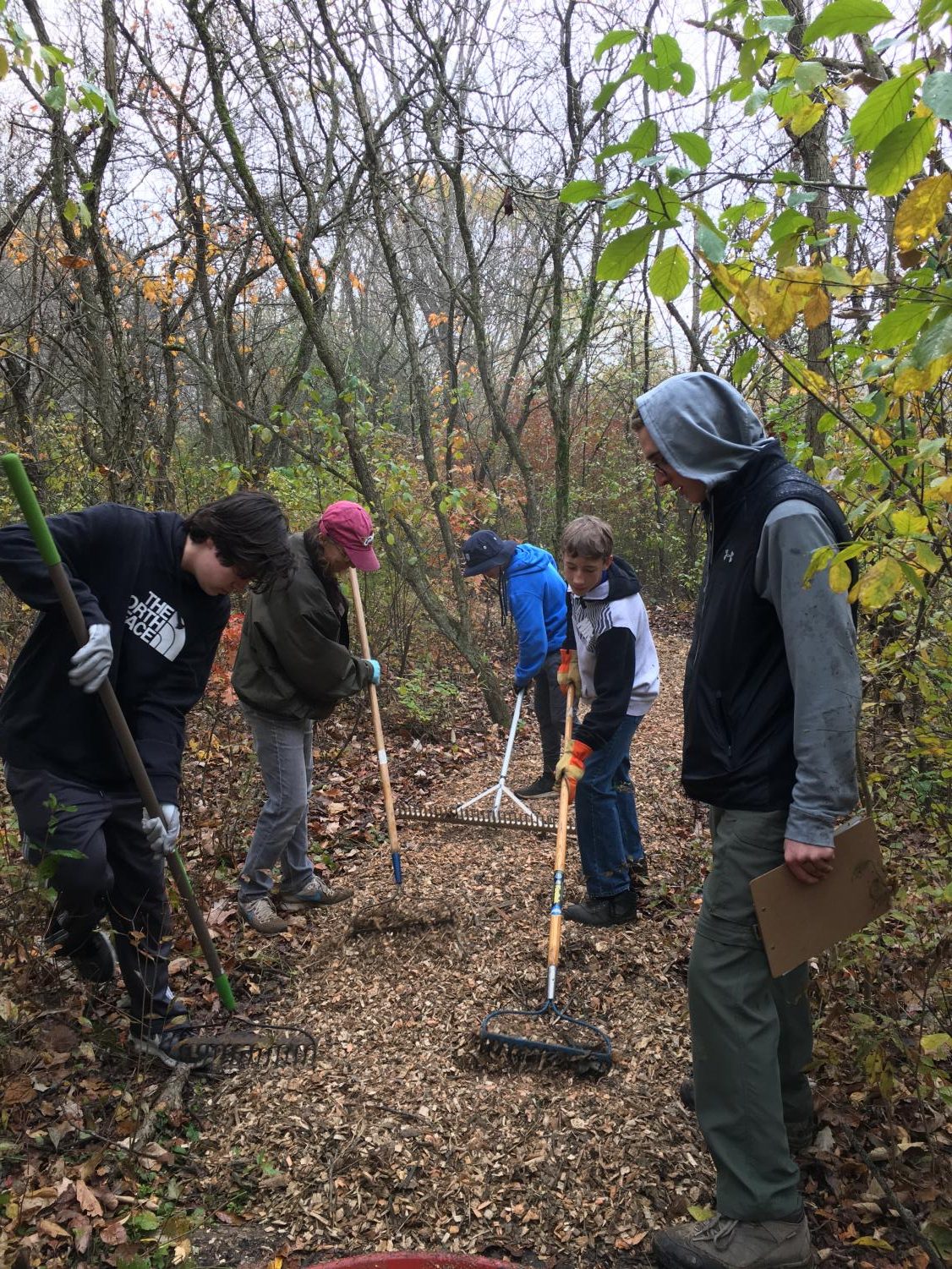 Conceived, supervised, and organized by Kaden, the project involved clearing and mulching the wetlands' winding trail. The potential of the wetlands was discovered in 2002 by alumnus and environmental scientist Jim Burns. "The area has been maintained primarily by the efforts of a series of Boy Scout Eagle projects," explained Mrs. Mary Truax.
Mr. Truax, a former Scoutmaster, met with Kaden to discuss ideas for potential projects last February. Kaden said, "I picked the project after Mr. Truax and I walked out to the wetlands and just brainstormed ideas."
The wetlands contribute in a unique way to WJ's ecosystem and the people around it. The area is utilized by science classes, such as biology and environmental studies, as well as summer workshops, biology field days, labs, and frog watch. Additionally, the cross-country team and even the residents of Wyoga Estates across the street from the campus make use of the area. Community members enjoy the area as a nature trail because there are multiple bird and bat houses for bird watching.
The maintenance of the wetlands have been a voluntary and intermittent endeavor. Over time, the path surrounding the area became almost impassable. Walsh Jesuit does not currently offer any funding toward keeping it cleared of overgrowth.
On that rainy Saturday morning, Kaden and his volunteers took to work after a morning prayer and moment of silence for Mr. Truax. Over 45 people were present throughout the day. Most, including teachers Mr. Richard Sistek, Mrs. Mary Truax, and students George Zografakis and Alexander Wintering, picked up rakes and shovels or pushed mulch-filled wheelbarrows for hours on end. Others stopped by to offer encouragement. Among them were Principal Fr. Carr, President Mr. Karl Ertle, Ms. Liz Duarte, and Coach G. Kaden's fellow scouts from Troop 334 worked tirelessly from start to finish.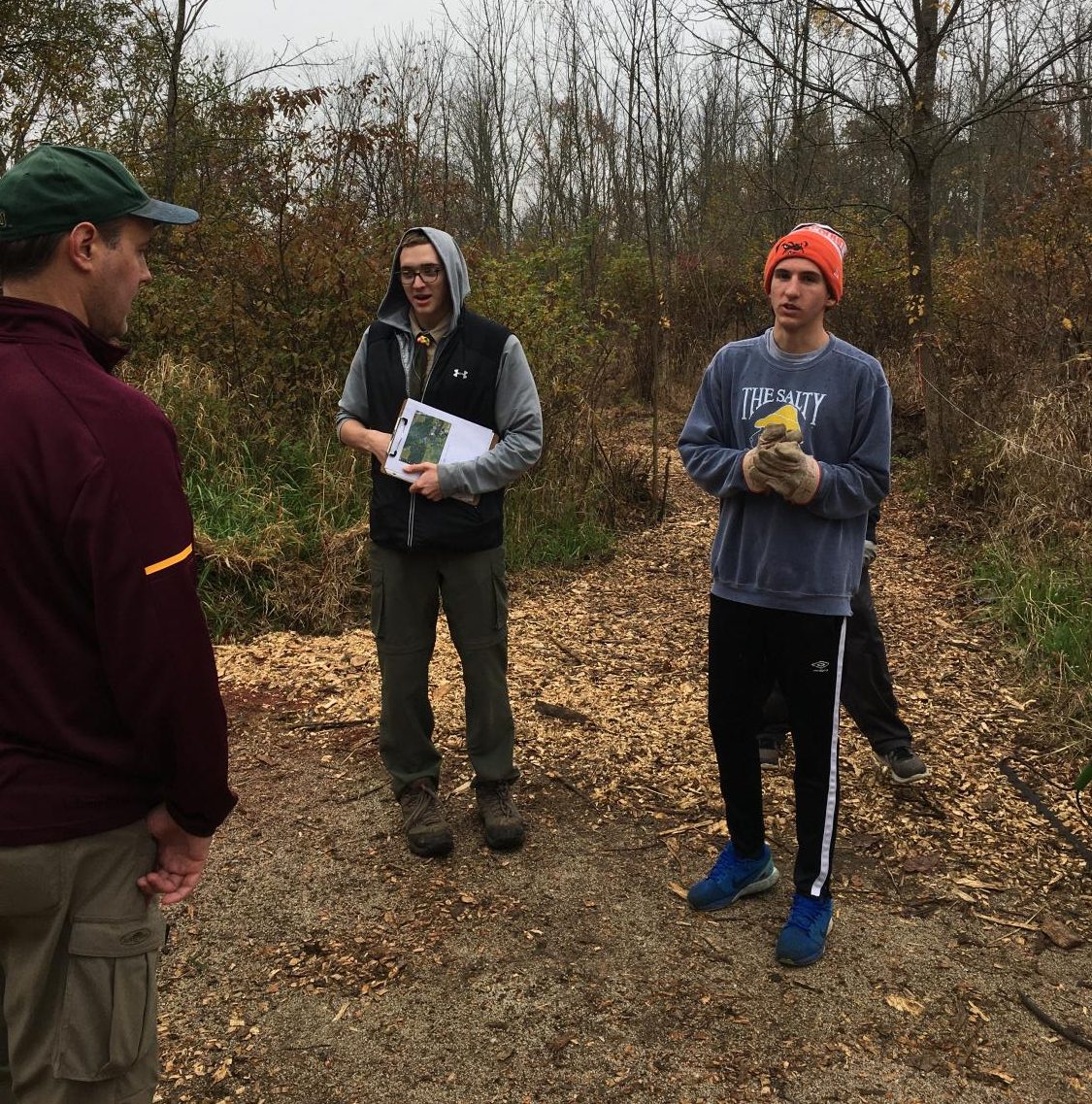 George Zografakis, '20, explained why he felt called to lend a hand. "I came because I'm interested in environmental studies and because Mr. Truax was a really cool guy," said George.
Many of Walsh's community know Mr. Truax as a teacher, mentor, moderator, friend, coach, and a true man for others. But the scouting community also admired him as a loving leader and dedicated Scoutmaster. About his project, Kaden said, "I couldn't think of a better way to honor him and carry out his legacy!"
In preparation for Saturday, Kaden had to conceive his project and gather materials and supplies (mulch, tarps, wheelbarrows, shovels, etc.) through donations. He directed the project but was prohibited from participating himself as stated in Scout protocol for Eagle projects.
Finally, Kaden created a binder detailing his entire project and submitted it along with his application to a national group which approved his Eagle rank. This is the highest award of the Boy Scouts of America. Only 2% of scouts earn the prestigious Eagle Scout rank.
By 1 p.m. on Saturday, the project was finished, and Kaden was overjoyed and extremely satisfied with how the day had gone. "We got everything done that we needed to, and I 'm really happy with it," he said.