WJ students attend March for Life
"A person's a person no matter how small"
Almost 50 years ago, the US Supreme Court made the controversial decision in Roe v. Wade to establish a woman's legal right to an abortion. Since that day tens of thousands of Americans have gathered in Washington, D.C., to march for the sanctity of unborn lives.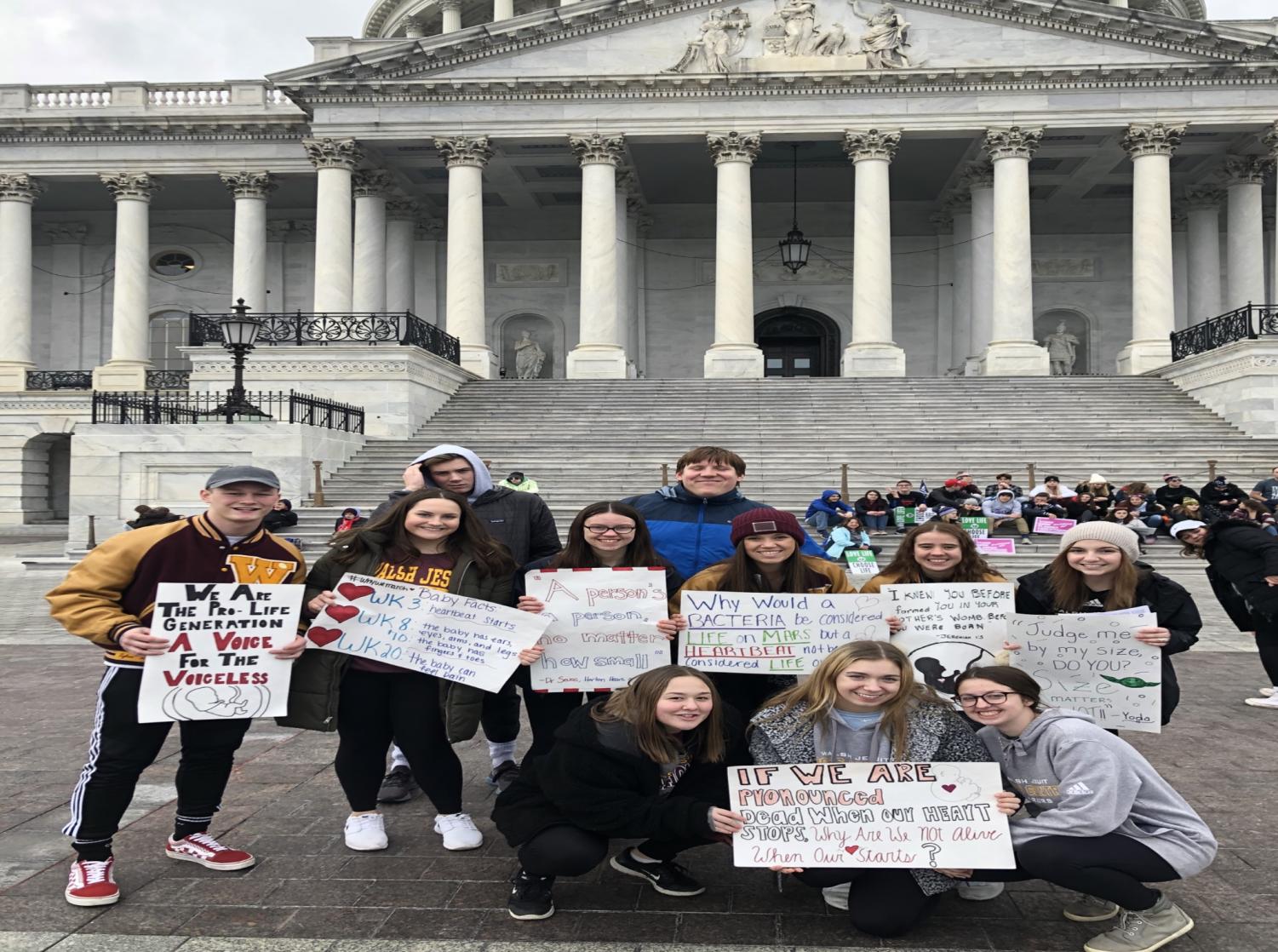 This year, ten excited Walsh Jesuit students and Mr. Tim Dunn, director of campus ministry, gathered with students from other area Catholic high schools to express their pro-life stance and attend the March for Life in Washington on January 24. Prior to leaving, the WJ group held a prayer service to pray for expectant mothers to choose life. They also made pro-life signs to hold during the march.
The WJ students were quite willing to share their reasons for going to the demonstration. Among them was junior Mary Snock who was instrumental in requesting that the school participate. "I've always grown up in a very pro-life and conservative family, but I never really understood or got interested in abortion and my pro-life belief 'til this year. Going on the March for Life seemed like the perfect opportunity, so I asked Mr. Dunn if we could go this year," Mary said.
Senior Jacquelyn Elbin also shared her pro-life beliefs: "I've always wanted to go on the March for Life since freshman year, but my parents have never allowed me until this year. It just seemed like the best opportunity to live out my faith and get involved in campus ministry."
Emily Polatajko, a sophomore, said, "I honestly went on the March for Life because abortion is a touchy topic in my family. I just really wanted to grow in my awareness promoting life."
The festivities began with an early arrival in DC to celebrate mass at the massive, ornate Basilica of the Immaculate Conception, complete with sacred music and hundreds of other Catholics worshiping and praying together. The basilica is a very popular tourist site in DC due to its history, architecture, and ecclesiastical art. With over 80 chapels on two levels, magnificent mosaics ornamenting the domes of the upper church, and several majestic sculptures depicting Jesus Christ, Mary the Mother of God, and many saints, it is an inspiring place of worship.
After mass the group trudged to the Washington Monument for the March for Life pre-rally.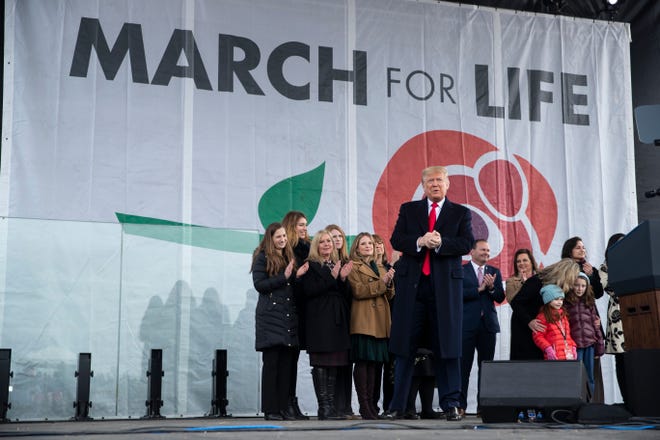 For the first time ever, the president of the United States, Donald Trump, spoke in support of the dignity of life. Other prominent speakers included Abbey Johnson and Vice-President Mike Pence, both of whom were extremely influential to the students.
Despite the slightly chilly weather and light rain, the event was perfect. The marchers chanted, "Hey Hey, Ho, Ho Roe v. Wade has got to go" and received loads of valuable information.
This reporter personally talked with people from Massachusetts, Florida, Pennsylvania, and Ohio and noted how awesome it was to speak with friendly and like-minded people from across the country about a topic like abortion.
After the march, the WJ contingent boarded the bus to drive back to Ohio. It's fair to say that, even though the students were completely exhausted, the trip had been transformative in strengthening their beliefs.  Mr. Dunn and the students hope to continue opposing abortion and have even mentioned creating a Pro-Life club at Walsh Jesuit.
Katlyn Lou, a senior, said, "I enjoyed [the trip] because I wanted to do it for a long time, and to be surrounded by so many people who believe in the same thing I do was a life changing experience."
Everyone here at Walsh Jesuit is called to serve as men and women for and with others and to respect the dignity of all life. As Doctor Seuss once wrote, "A person's a person no matter how small."