WJ teachers and staff find ways to adapt
On Sunday, March 22, Ohio governor Mike Dewine issued stay-at-home orders to the  state's residents in order to slow the spread of the novel coronavirus (COVID-19). This quarantine included a forced shutdown of all non-essential businesses and activities. It has affected everyone, including the faculty and staff of Walsh Jesuit, who have found interesting ways to find alternatives to their normal routines.
Mrs. Erin Haught, a Spanish teacher, has been personally affected by the shutdown of gyms. Nick, her husband and Walsh Jesuit science teacher, owns a gym which was forced to shut down due to COVID-19.  Regardless, she has not let the challenges impede her workout regimen. "[My husband] has been doing online programming every day for his clients, so I do those weight-training workouts. I'm also doing yoga and Pilates and am in the midst of training for a 10-k in September," Mrs. Haught said.
Her 10-k training routine includes multiple runs ranging from 2 to 4 miles per week. She finds this type of running quite challenging if she's not in the correct mindset but, with a  determined attitude and some upbeat Spotify music, she's able to continue her training schedule.
Heading outdoors for long walks has been a common activity for many Walsh Jesuit faculty members. Chemistry teacher Miss Suzanne Maloney enjoys walking outdoors, so much so that she said, "I like to go [on] walks outside around my neighborhood for exercise and fresh air. I actually [will] take this option over a crowded gym any day!"
Unlike Mrs. Haught, Miss Maloney does not listen to music on her thirty-minute walks around her neighborhood. Instead, she prefers to listen to the sounds of the birds to try to identify each bird by its song.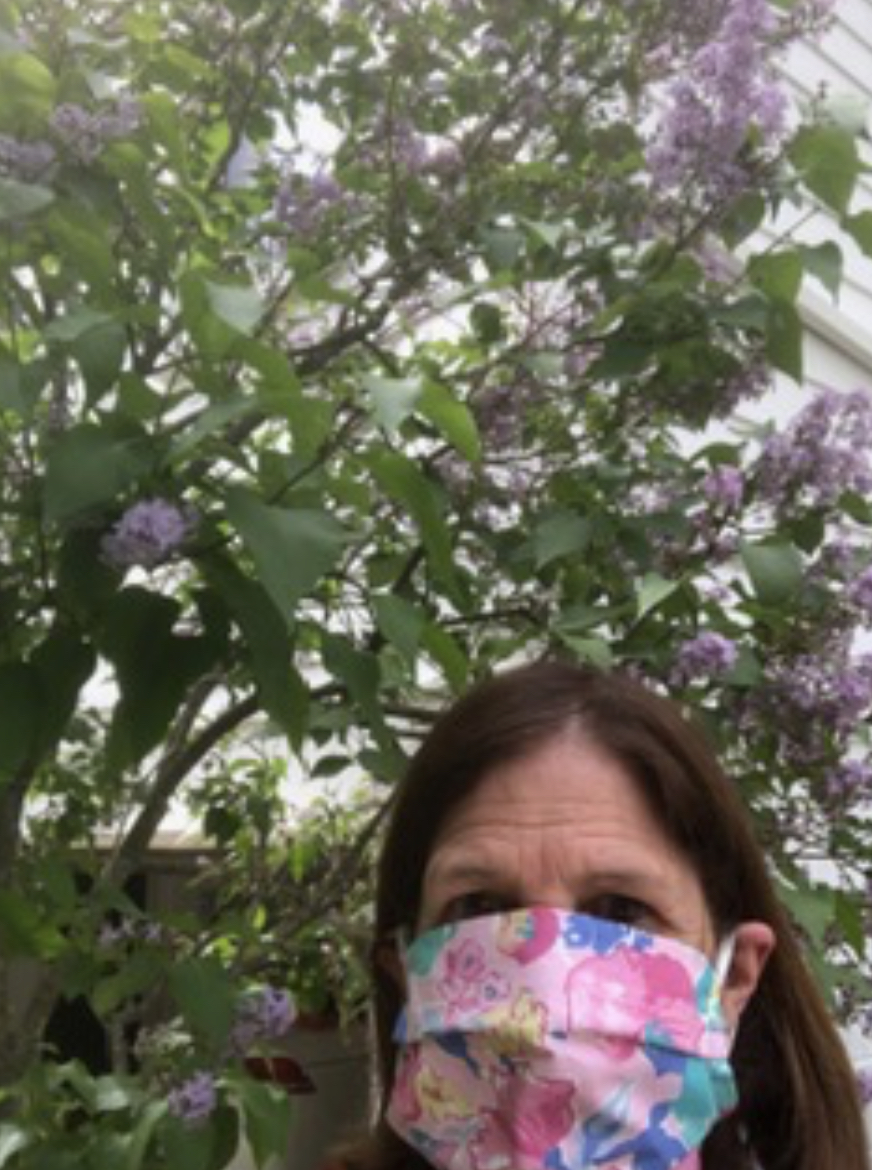 English teacher Mrs. Deborah Bok enjoys spending time outdoors as well. When she is not doing school work in front of her computer, she enjoys gardening. She stated, "[It feels] like I've done something real, and I can see real progress. My perennials are coming back, and my spring flowers always make me happy."
One of her favorite plants is her lilac bush.  It was in their yard when Mrs. Bok and her  family moved from Miami, Florida, in 1986 and has taught her many gardening lessons. "If it buds too early, it is in danger of getting nipped by a late frost," she said. In contrast, with regular pruning, the lilac has flourished in what Mrs. Bok referred to as a "bloom riot."
Others have turned to cooking as a way to pass time during the quarantine. Mr. Nick Albin, S.J., a theology and math teacher, is one. He lives in the Jesuit residence with three priests, including the school's principal, Fr. Mark Carr. The two of them have been able to cook together, making "chili, burgers, pasta, steaks, and more."
Although tasty, those meals do not come close to the glorious feast Mr. Albin and Fr. Carr cooked up on Easter with the help of Fr. Styles. For dinner the three "prepared steaks on the grill alongside boiled redskin potatoes and grilled asparagus." They even ventured into baking and created a carrot cake with a rich cream cheese frosting.
Still others spend their time in quarantine to deepen bonds with relatives. Dr. Feliesha Shelton-Wheeler, school counselor, has enjoyed spending quality time with her family. "I love my family so much, and our time here on earth is not promised. So I soak up as much love from them and give them as much love as I can," she said.
"
Other faculty and staff of Walsh Jesuit have also been using technology like Zoom to contact relatives and loved ones whom they would otherwise be unable to connect with."
Although Dr. Shelton-Wheeler does not enjoy interactions via the online platform Zoom, she has made exceptions because she knew it would help her connect with her family. Currently,  they are in the process of planning a  reunion using the platform. She said, "We plan on including a fun activity and then just talk and enjoy one another's company from afar. We're really looking forward to it."
Other faculty and staff of Walsh Jesuit have also been using technology like Zoom to contact relatives and loved ones whom they would otherwise be unable to connect with. Theology teacher Mr. Tony Dipre and his family use Zoom in a unique way to have fun interactions. They hold Trivia nights almost every Sunday at 7:00 p.m.
"One group of family members develops quiz questions and plays the role of  'quiz master.' The rest of the family members pair up and compete against one another across six areas of trivia," he explained. The categories can range from geography to Disney, resulting in an exciting and entertaining way for him to connect with  relatives.
Whether it be simply finding new workout routines, going on a walk, or hosting a Zoom trivia night to connect with relatives, the WJ faculty and staff are proving that, with a little bit of effort, anyone can find ways to maintain and even enhance their lifestyles during these unique times.