The abandoned thrift shop…
You may have noticed that not even a mile from Walsh Jesuit lies a peculiar building. Its identity unknown to most, it remains a mystery. Something about this property draws in the curious-minded. Perhaps it is the overgrown parking lot scattered with wooden beams and lonely tires. Maybe it is the single illuminated lamp on the windowsill. The whole place is—or should I say was—a complete enigma.
Most Walsh Jesuit students have noticed this interesting establishment. Whether it simply caught your eye while taking a different route to school or you pass by it every day, it is hard to miss.
Questions concerning this site have developed throughout the years. Does someone live there? Why is the light always on? What was it in the past?  What is it now? Take a dive into The Pioneer's search for answers…
One simple feature gives an insight into the building's current state. A lonely, constantly lit lamp can be seen through the window 24/7. "I wonder who pays the electric bill," said senior Allie Stark. That is a good inquiry. It somewhat confirms that this building is not so abandoned.
A recent renovation gives additional insight. On Google Maps, the building is displayed differently than it looks today (see photo below). Old photos showcase the building with blistered paint, tattered curtains, and letters displaying "Thrift Shoppe." However, recent pictures exhibit the building's fresh coat of paint, lack of curtains, and no sign. Interesting. The pre-renovation image (on Google) was captured in May of 2019. A recent picture was taken post-renovation on January 25, 2021. That means someone renovated the "abandoned" building between mid-2019 and present day. The plot thickens.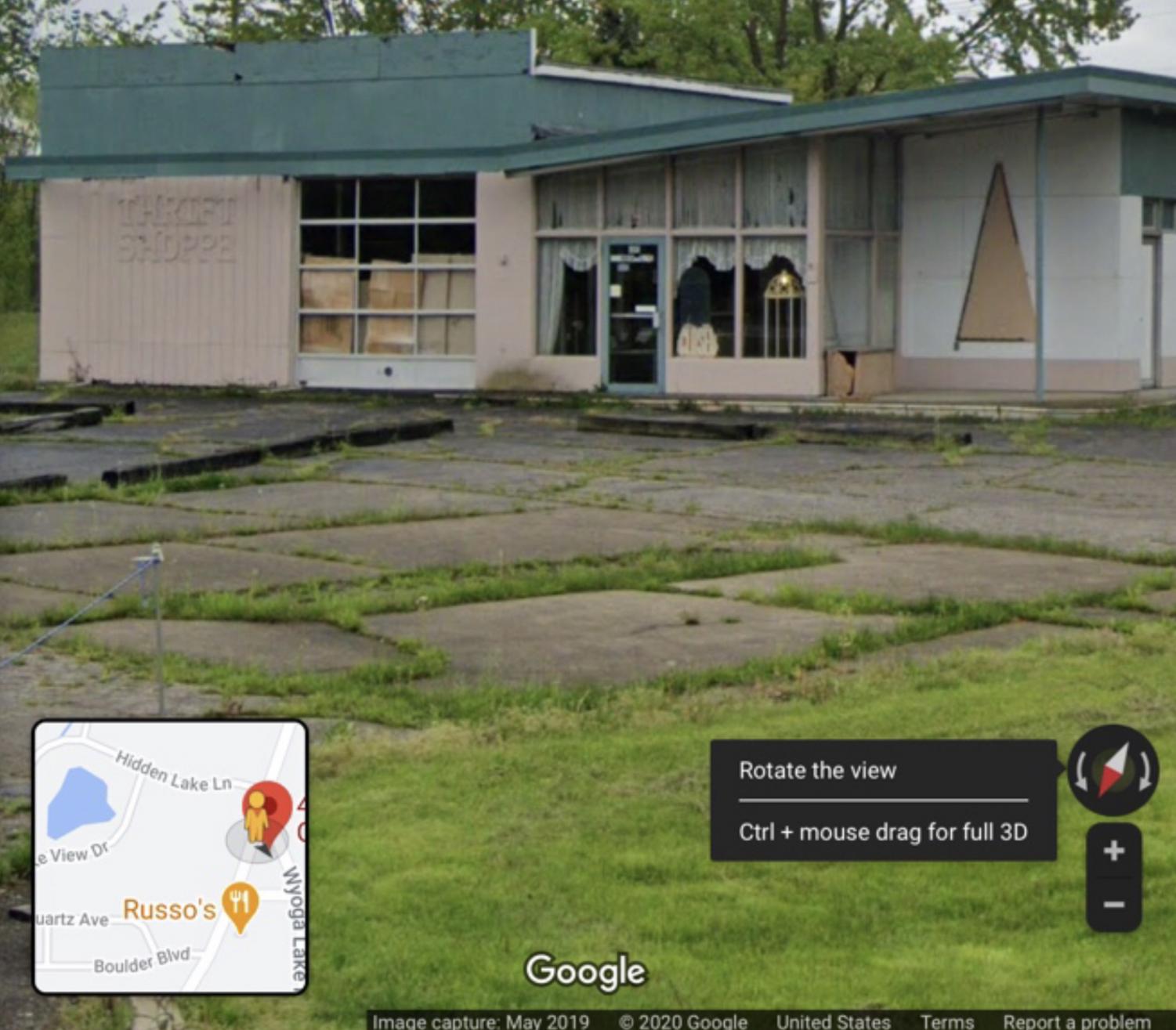 A glimpse into the history of the former thrift shop leads the way to another key piece of information. Correlating with the big sign, the facility was a real running thrift shop at one point in time. The name of the shop was Seasons Triangle, a fitting name for a building which lies on a triangle-shaped plot of land at the intersection of State and Seasons roads. Seasons Triangle was likely open in the 1990s, but exact dates for the opening and closure are unknown.
Yelp, a common resource for business information and customer reviews, had Seasons Triangle listed as a business on their site. There were no reviews listed under its profile. Additionally, a red exclamation point lit up the top of the page: "Yelpers report this location has closed."
The Yelp page also had a phone number listed, presumably the property owner's. The Pioneer reached out to them, leaving several messages, but as of press time there has been no response.
As outside sources were leading to dead ends, it was realized that our own Walsh Jesuit staff may have insight to offer. Mr. Gerry Rardin, Dean of Students, provided an interesting piece of information: the owners of Seasons Triangle were a Walsh Jesuit family.
For the moment, that is all this investigation has uncovered. Although it is not a complete mystery anymore, there are many unresolved questions. Who owns the property now? Will it ever be reopened? What types of items did Seasons Triangle sell? Will the new business possibly sell products to WJ students? The search for answers will continue…
---
If you know anything about this building, please leave a comment below this article or reach out to Pioneer staff members. Any information may help develop a follow-up to this article.