New Weight Room has massive impact
The new $2.5 million weight room project came to a much anticipated culmination with its grand opening on Christmas Eve 2021. The Christmas Pump, an open house event, showcased the weight room to students, coaches, parents, administrators, and alumni. Athletes were able to explore the new training facility and test out the state-of the-art equipment.

Since then, the room has been in constant use. Junior footballer Dominic Bernard, varsity offensive lineman, said, "The new weight equipment has helped me get stronger and be more efficient with my time during team lifts because I don't have to wait long between sets."
The school's addition compares not only to other high school and college weight rooms but even to some professional NFL weight training facilities. Walsh Jesuit alumnus Adam Redmond, who plays for the Chicago Bears, reportedly said that the Bears have the same Sorinex lifting racks but only have half as many racks in their team's weight training facility.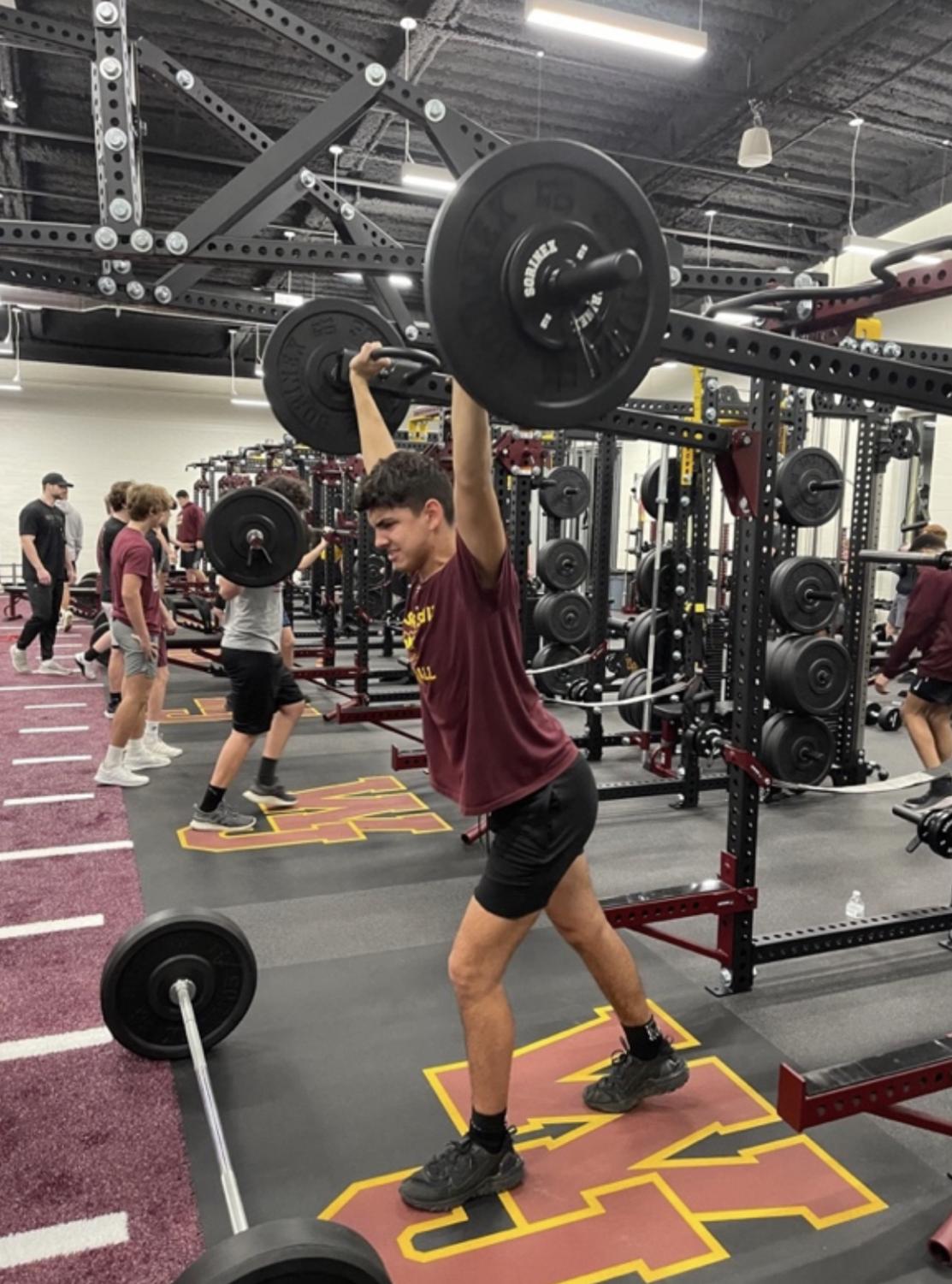 Coach Matt Redmond, CSCS USAW-1, Walsh Jesuit director of strength and conditioning, said, "The new weight room has revolutionized the way our athletes train. With the larger capacity…, we are able to have multiple teams train in the weight room at the same time, which increases the frequency that teams are able to lift."
So far all of Walsh Jesuit's 28 varsity sports teams, including Lady Warriors, have taken advantage of the improved opportunity to train. Junior Marielle McCarty, varsity volleyball player, said, "The new training facility has allowed the team more opportunities to strength train and has helped the volleyball program focus more on the importance of strength in our sport."
The new facility is more than double the size of the former weight room and can comfortably accommodate 80 athletes at a time. Walsh Jesuit partnered with Sorinex Exercise Equipment to design and outfit the room with state-of-the-art weight lifting equipment that includes 20 custom full-size weight lifting racks.
The old weight room only had 10 half-size racks that did not have nearly the capabilities that the  new racks have. Platforms in front of each rack allow athletes to do Olympic style powerlifting movements.
In addition, the current training area has some impressive technology to help athletes be more efficient with their time and maximize their workouts. Two large television screens, mounted overhead, allow Coach Redmond to display workout plans so athletes can see them from all around the weight room. An audio system allows athletes to listen to music during their workouts. An Intercom system lets coaches make announcements to athletes while they are training.
Another benefit of the facility includes a 35-yard strip of synthetic turf. Teams are able to use this space to work on agility and speed training in the off season, seamlessly incorporating those activities into their regular weight training.
Because of the room's increased size and capacity, students who are not members of athletic teams can utilize the weight room for their own strength training. Each month Coach Redmond posts a schedule for open lifting times after school.
View Comments (5)