Sophomores provide service with a smile at Peter Maurin
"To praise, reverence, and serve God." Sophomore students have acted upon this school year's theme by volunteering at the Peter Maurin Center to help the marginalized in downtown Akron.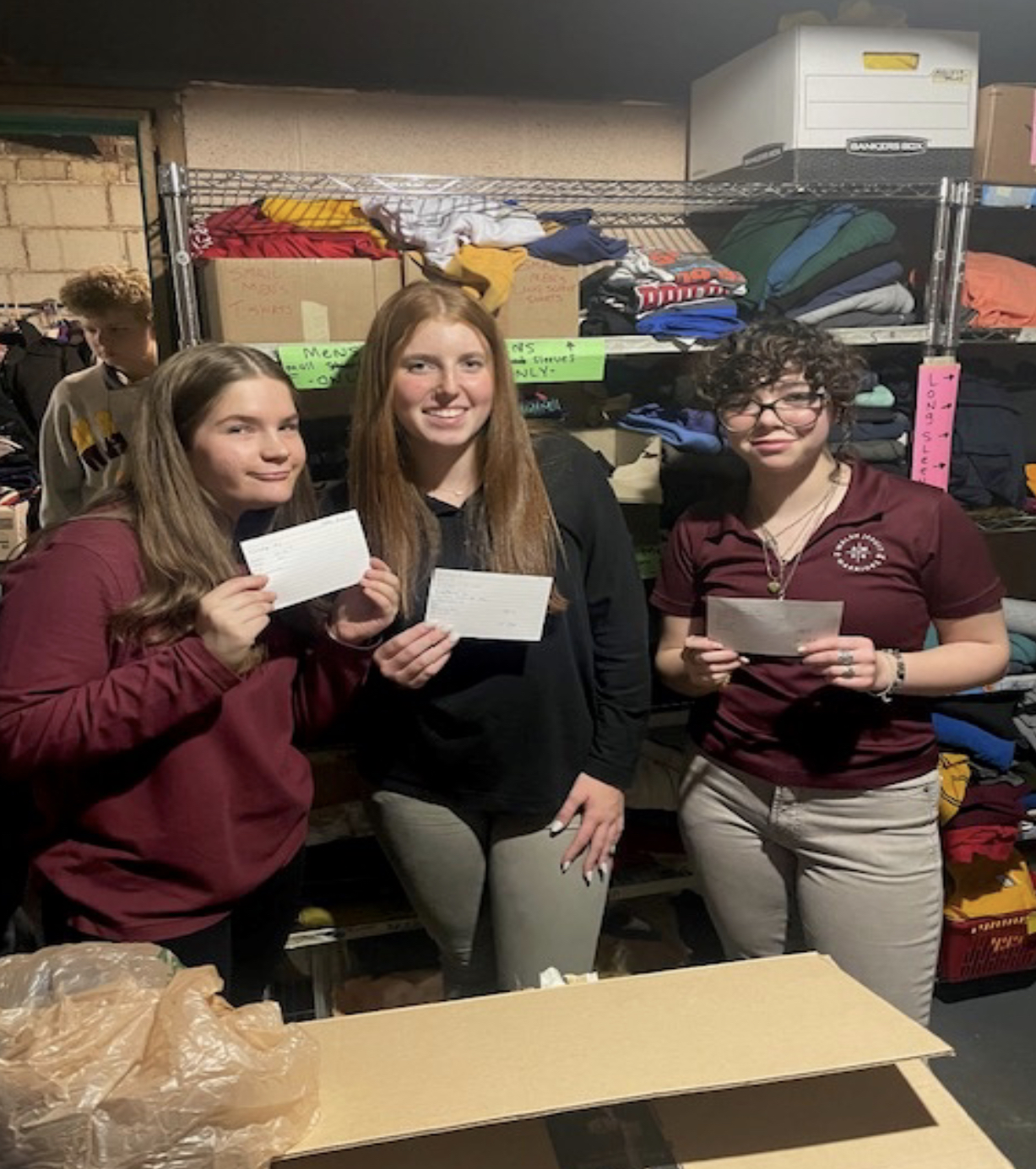 The center, an outreach ministry, began serving the public in 2008 with a mission "to service the community through God's love and grace." It provides the poor and homeless with clothing and prepared meals. Additionally, the center strives to provide people with a sense of hope and strength by offering spiritual guidance and friendship.

The Peter Maurin Center depends primarily on the assistance of adult and student volunteers to help them achieve their mission.

One such volunteer is sophomore Adam Merdes, who said, "When I first arrived at the Peter Maurin Center, I helped gather clothes for those who requested them, and I proceeded to help out in the kitchen. The people had a lot of options of food to choose from. I served grilled chicken, lasagna, soup, salad, and bread, and the food tasted delicious."

Aly Kramer also served meals and said, "I noticed the visitors were generally good-spirited people. They were smiling and cracking jokes with me and showed great courage considering it was winter and many of them did not have the luxury of heated housing." 

As part of their service requirements for graduation, every sophomore is spends a day at the center. Each Tuesday and Friday, a campus minister drives five to seven students to the Akron location where they are supervised by adult volunteers.

Sophomore Amaya Siders, who assisted visitors needing clothing, said, "I noticed that most of the people wore dirty and old clothing with tears here and there. The most surprising to me was just how many articles of clothing and other essentials the center had. It seemed every article of clothing you could imagine was down there—like a whole shopping center in the basement." 

The Peter Maurin Center

Like Amaya, Maddy Hanlon learned that many people with housing still struggle with basic needs.

"I went to the other building to serve food to the homeless. I talked to a man that was getting his water turned on in his new apartment. He was very nice and had two kids. I learned that even though he didn't have much, he was happy that he got the chance to get a new start and was thankful for the center," Maddy said.

Over the years, the Peter Maurin Center has relied greatly on high school students who volunteer to help serve individuals in need. Interestingly, many of the current adult volunteers at the Peter Maurin Center began volunteering when they were students.  

Amaya worked alongside the adult volunteers and said, "I talked very briefly to the adult volunteers, but they all seemed incredibly kind and caring. I observed them all handing out clothing, folding clothes, and serving food with big smiles on their faces. In my opinion, this shows their immense commitment to helping the poor and homeless because it shows the joy they gain from doing this."

The sophomore service project at the Peter Maurin Center allows Walsh Jesuit students to enjoy the rewards that result from volunteering and acting as "men and women for and with others." 

Connor Maxwell considers volunteering with his classmates to be a positive experience. He said, "I may have been a bit more shy or quiet if I didn't know the people I volunteered with. I felt good about volunteering with them."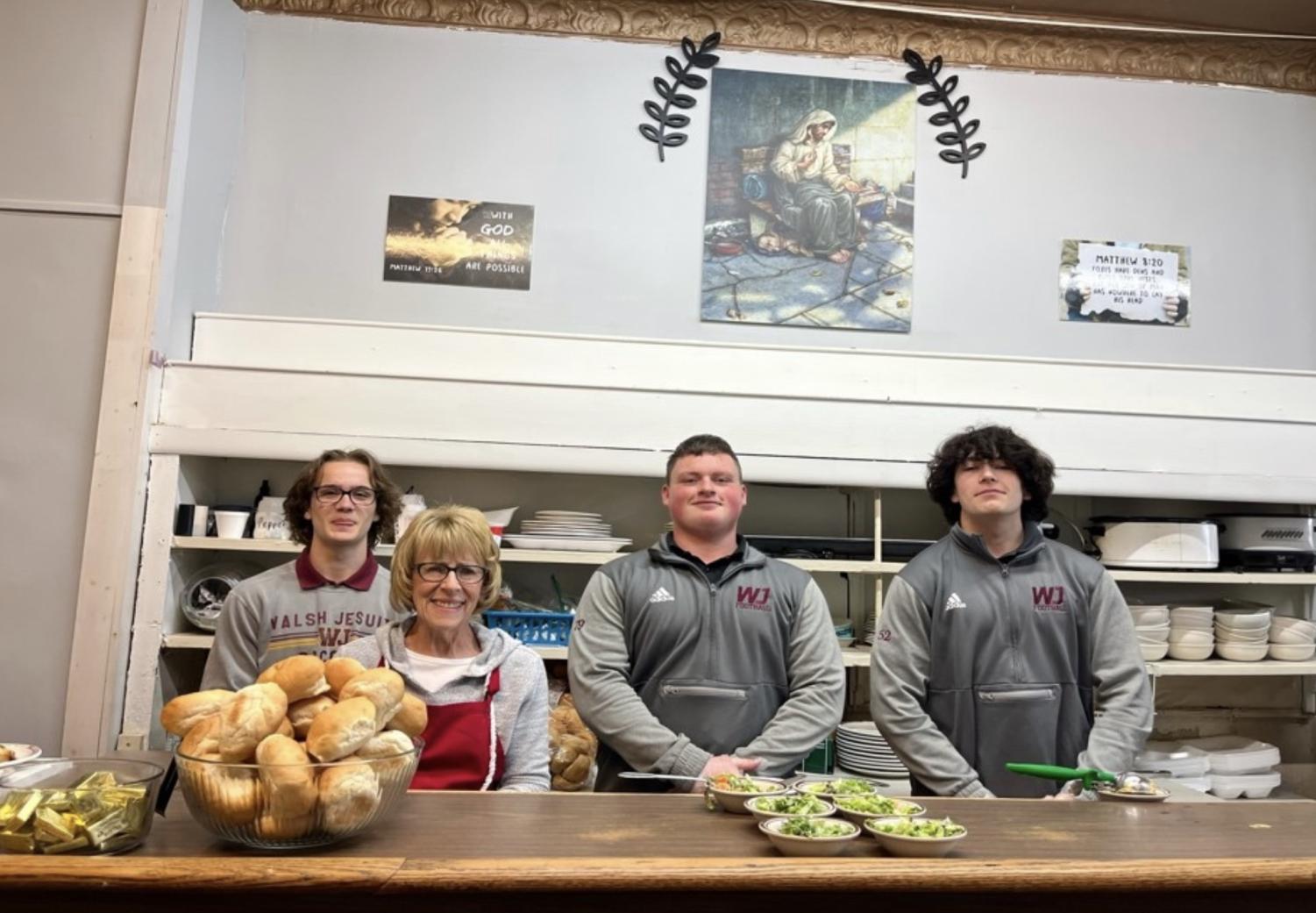 Upon reflection of her positive volunteer experience, Aly recalled an interaction she had with a visitor: "He never told me his name, but I vividly remember plating his food when he said to me, 'Don't you ever lose that smile.' It was only a quick interaction, but it was so uplifting coming from someone who had so much less than I do. Even though I do not know the name of the man who changed my perspective on something as simple as a smile, I am extremely grateful to have met him." 
Carlo Costanzo said, "I remember talking to Ozzy about how he comes here every couple of weeks to get new clothes in order for him to survive. He was extremely grateful that I was able to help by volunteering in the form of packing clothes for the homeless. With this little interaction, I learned that just by doing little things like volunteering can impact somebody's life in a large way." 
Similarly, Aly said, "I hear about people in poverty in America on the news, but it is an entirely different experience to see it face-to-face on Sophomore Service. Looking after the marginalized is a necessary component of life, and kindness comes full circle. I can certainly see myself doing similar volunteering after high school."
Anyone 16 years old and older who is interested in volunteering at the Peter Maurin Center can contact Jim Orenga at [email protected] or (330) 414-5639.
Leave a Comment