Plan the perfect graduation party
Graduation from Walsh Jesuit High School deserves to be celebrated. It's a time to reflect on all the hard work and dedication that has been put into achieving academic and personal growth. It's also a time to party. Planning a graduation party can be overwhelming but, with the right steps, it can be an enjoyable and memorable experience for both the graduate and guests.
Step One: Who, Where, When
First, pick a date that works best. A poll of 30 WJ seniors has dates ranging from June 4 – 30, with most celebrations falling in the middle of the month.
Next, you will need to finalize your guest list. A small gathering can be just as enjoyable and memorable as a large party, so take your preferences into account. Having an estimate in mind and putting a limit on the number of guests will be helpful when selecting a location and food.
Moriah Mann said, "I'm having my graduation party at the Western Reserve Yacht Club. It's a nice large space for all 120 of my guests."
Choosing the right location is a big decision for planning your festivities. If you plan on having a big party but don't have enough space at home, you can rent a Metro Park lodge with bathrooms and a full kitchen for $250-50o. Some have multiple rooms to set up games.
Lastly, pick pictures for custom party invitations that announce information like date, time, and location. You can add your senior pictures and what your plans are after graduation. You can design one yourself on Canva, or you can pay a graphic designer.
Step Two: Food
Start thinking about the foods you and your guests will enjoy the most. Zach Halligan talked about his food option: "I'm having a Swenson truck at my party. It's great because everyone gets to customize their burgers, and there is no mess to clean up after."
Food bars are always a hit and allow your guests to customize their food to their liking. For example, you can have a burger, taco, or pasta bar. Buying nonperishable ingredients can lighten the load as the date approaches.
And, of course, dessert. Cake, cupcakes, and cookies are the best options because they are simple to make or buy, they feed a lot of people and are customizable, like in the colors of your new school. Plates and utensils can match your theme.
Step Three: Entertainment
If you're interested in having a DJ or band, start looking at options early. If you'll be using a playlist, start gathering a collection of entertaining and upbeat music that your guests will like.
Henry Marshall said, "You can never go wrong with music that we loved when we were younger. My go to is Drake because you can never go wrong with Drake."
Next, you might build a slideshow. This is a great way to share your favorite memories with your family and friends. It can show pictures of your accomplishments and milestones as well as special times with friends and family.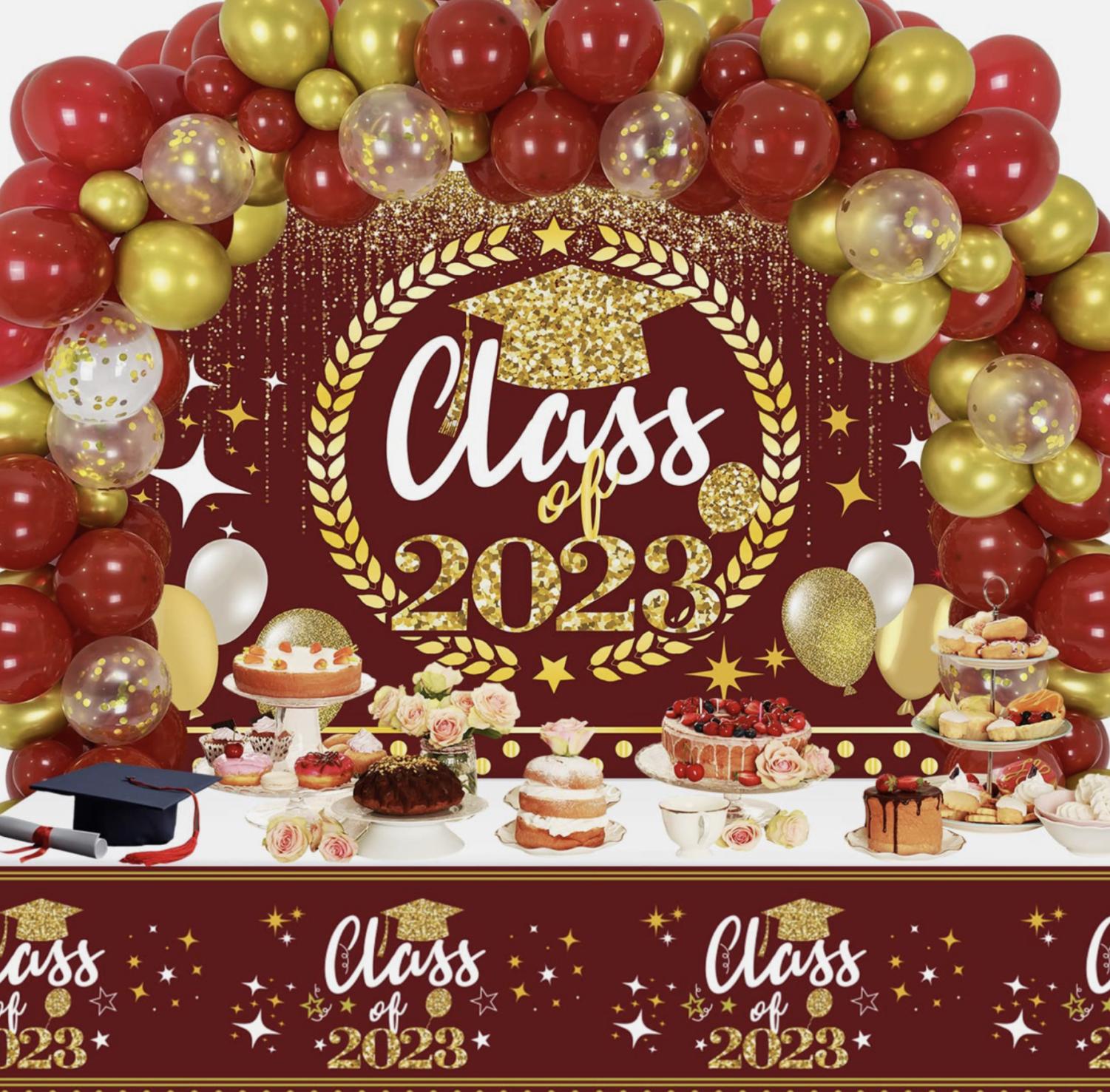 You can create memories of your party with a photo booth. This is a fun way for guests to take pictures of each other and the graduate. Provide props like a paper graduation cap, a small diploma, or humorous props like hats and glasses. (Since I'm a track athlete, I will have my shot put, disc, shoes, letterman jacket and my senior banner.)
Lastly, a great way to entertain your guests is with a fun game. You can make your own trivia game with questions about the your past, present and anticipated future. This would be another great way to reminisce with friends and family.
Whatever your plans are, keep your family and friends at the center because they are the ones who supported you through this chapter of your life. Some of those important people may live nearby and others may travel considerable distances to celebrate with you.
Jacob Blaine's family takes the prize for the greatest distance traveled. He said, "I'm super excited for my graduation party. I'm having family from Scotland traveling to Ohio to celebrate with me. I can't wait because I rarely get to see them."
Leave a Comment