Meet Mr. McDermott, WJ's newest college counselor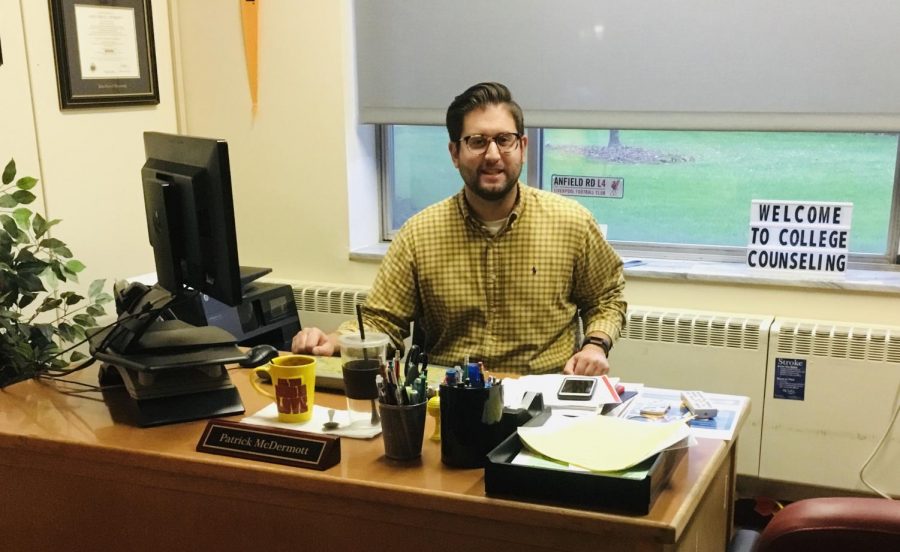 What do Jesus, JFK, Abraham Lincoln and Queen Victoria have in common? They would all be guests at Mr. McDermott's dinner party.
Mr. Patrick McDermott is the newest addition to the college admissions team at Walsh Jesuit. Originally from a small town just outside Pittsburg, he was involved in basketball, show choir, and theater during high school. Memorable roles include Horace Vandergelder in "Hello, Dolly!" and Fred Graham in "Kiss Me, Kate." He attended John Carroll University as an undergraduate and went on to Boston College for graduate school. Mr. McDermott continued exploring music by participating in an a capella group in his college years.
He later worked as an admissions officer at Boston College, John Carroll University, Harvard University and Marquette University in Wisconsin. At Marquette, he recruited Walsh Jesuit students. "I was very impressed by the students and Miss Burgio's work," he revealed. After visiting here in the spring, he decided to move back from Wisconsin to begin working in college guidance.
When comparing high school to college admissions, Mr. McDermott commented on the level of anxiety among students, especially seniors. "Students put on a happy mask during the interview," he observed. In reality, many are experiencing high levels of pressure. He wants to help "alleviate this stress."
"
There is no such thing as a dumb question. Come down and see us."
— Mr. McDermott
When Mr. McDermott is not working, he loves exploring Cleveland. The city is one of the reasons he chose a job in Ohio. He enjoys visiting the museums and botanical gardens in University Circle, as well as diving into Cleveland's culinary scene. "On any given weekend, you can find me trying new restaurants," he confided. Other favorite pastimes include the band The Black Keys, "Game of Thrones,"  "Seinfeld," and historical non-fiction books.
Recently, he attended a memorable talk about one of his favorite historical figures at Case Western Reserve University. Tony Kushner, director of the 2012 movie "Lincoln," and Doris Kearns Goodwin, screenwriter for the movie and Abraham Lincoln biographer, gave the presentation. Goodwin told the story of how Lin-Manuel Miranda asked for the movie rights but, unfortunately, she had already sold them to Steven Spielberg. Goodwin's rejection led Miranda to compose the hit musical "Hamilton," which Mr. McDermott saw and greatly enjoyed.
Above all, Mr. McDermott wants Walsh Jesuit students to feel comfortable talking to the admissions officers. He reassuringly stated, "There is no such thing as a dumb question. Come down and see us."