Kickin' it with WJ boys soccer
Ariana Buda, Staff Writer
October 18, 2018
With a record of 7-5-3, the Walsh Jesuit boys varsity soccer team is preparing for playoffs this Saturday against Stow at Stow-Munroe Falls High School.
The Warriors are fielding an experienced squad with several talented seniors and promising freshmen as they continue to develop the team.
"We will continue to practice and build the team back up due to the loss of 12 amazing seniors last year," said senior midfielder Dominic Audino.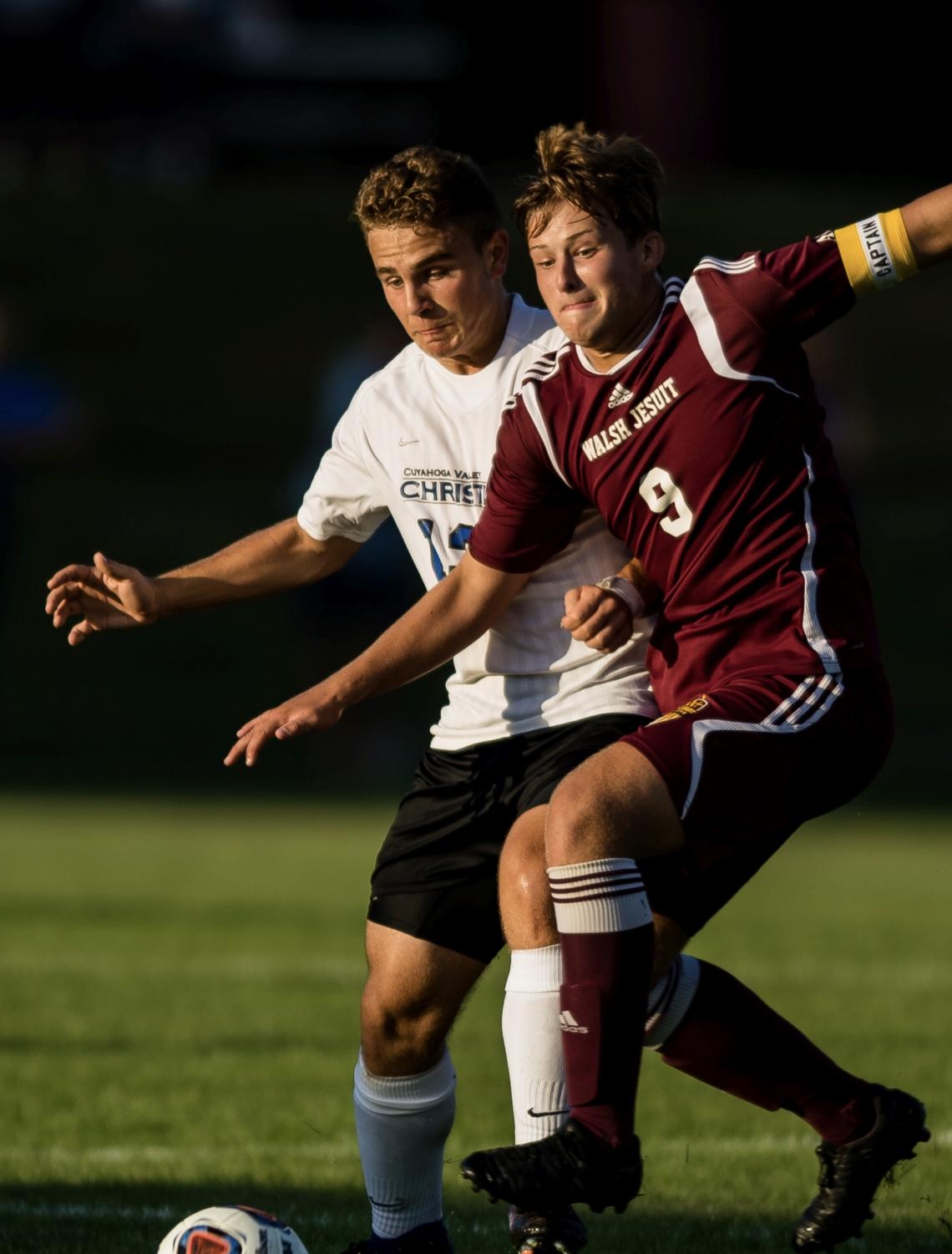 Last year the boys advanced to the District Semifinals, playing against Stow-Munroe Falls but, unfortunately, lost 3-0. "We were playing to our best ability but lost due to bad calls and luck playing against us," said senior midfielder Colson Brown.
Among the team's three senior captains is Nick Labbe, a four-year veteran who plays striker.  Fellow captain Colson Brown has been playing midfield for three years. Defender Sam Thompson has also been playing for three years.
"I love my captains, and I don't know what I am going to do without them next year. They are great team leaders and some of my best friends," said junior defender Joseph DeCarlo.
In addition, the team has some rising stars in players such as junior Jack Dawson. Dawson plays midfield, so his job is to keep the ball and lead the midfield. Another strong player,senior Anthony DeCarlo, keeps the ball and players away from the net in his position as defender. Nick Labbe plays attack, which means his job is to get the ball and score. He currently leads the team this year with 13 goals.
"Labbe is a very strong player. I'm proud of all his hard work this season and being the leader in goals for our team," noted Anthony DeCarlo.
The most challenging opponent this year is Perrysburg in Toledo. Last year the Warriors beat them 1-0 but defeated them on October 12, 4-0. Labbe scored two goals, while Anthony DeCarlo and junior striker Michael McShannic each added one.
"We hope to make a long playoff run through hard work and chemistry," confidently declared Labbe.