CenterStage Theatre presents "Clue"
Hang on for a minute...we're trying to find some more stories you might like.
We all remember the fun and suspense of trying to determine who did it, in what room, and with what weapon. Get ready to unravel the puzzle during Walsh Jesuit CenterStage Theatre's production of Clue the play.
Showing from November 14-18, Clue depicts a murder mystery taking place in the mid 1950s. This play follows six familiar guests—Colonel Mustard, Mr. Green, Professor Plum, Ms. Scarlet, Mrs. Peacock, and Ms. White—as they spend the night in a mysterious mansion. Under the guidance of the butler, Wadsworth, the guests are sent on a wild goose chase when several of the mansion employees end up dead. They only have each other to point a finger at. Who ends up being guilty? You'll have to come see for yourself and figure it out.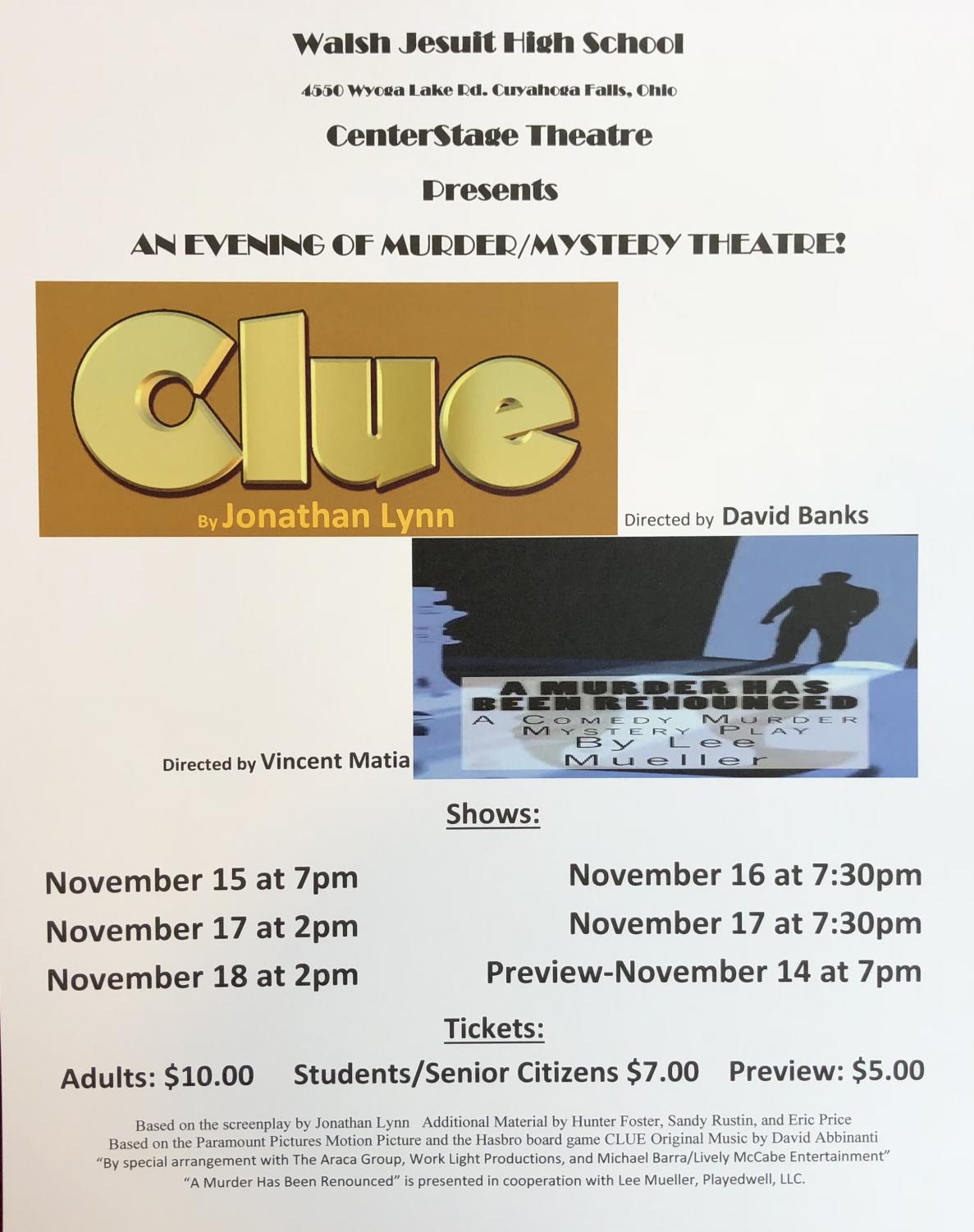 The cast, crew, and directors of CenterStage have been working hard since September to make the show happen. Junior actor and mastermind behind "Professor Plum," Dominic Mazullo, stated that the hardest part for him has been memorizing lines and getting into character. He also said that he is most excited to see the sets created by the wonderful CenterStage tech crew.
Junior Lauren Lewis, the sound director, noted that the most challenging part of the show for her has been "making sure the timing cues are just right. And running mics."
Director of Clue, Mr. Banks, says that for him the biggest challenge has been organizing the wild and random stage blocking. Both Mr. Banks and Lauren are most excited to see the audience's reaction to the comedy and mystery of Clue.
Tickets are available through the Walsh Jesuit website under the Performing Arts section. Adult tickets cost $10, students and senior citizens $7, and a ticket for the Wednesday, November 14, "preview" show is only $5. Times and dates can also be found on the website or on the fliers posted around the school.