Lets talk turkey…or maybe not
Not all Thanksgiving celebrations are the same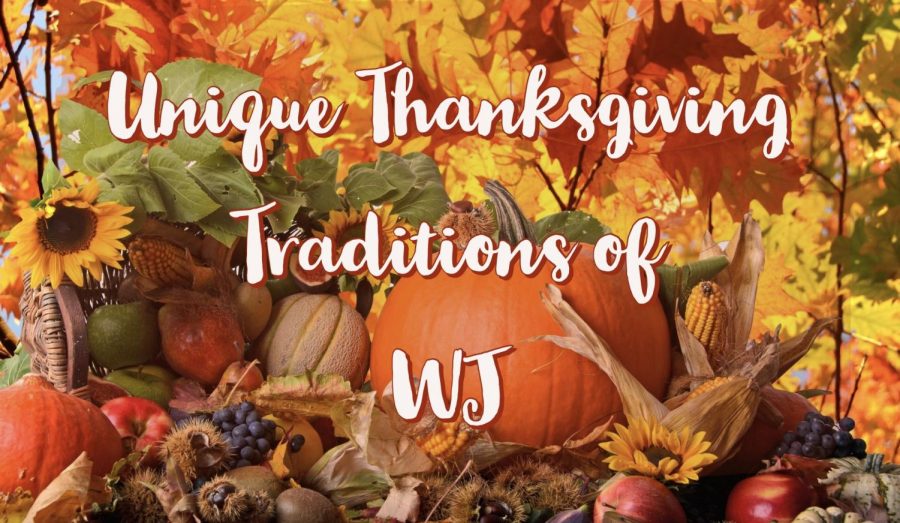 There is more to Thanksgiving than just eating turkey and mashed potatoes, seeing family from out of town, and watching football.
Senior Ali Osman's family does something very different from other families on Thanksgiving. Ali said, "In my culture, it's important to balance both aspects of being an American citizen and a Palestinian. My family does so by eating both cultures' foods. My mother makes lamb, rice, potatoes, and for dessert we eat ice cream."
Often, extended families like grandparents, aunts, uncles, and cousins share stories about their childhood memories and favorite moments on the special holiday. Ali's family is no exception.
"My father shares stories of his struggles when he came to America. My brother, mom, and I acknowledge the struggles that my father had to go through in order to provide us a better life," Ali added, saying these stories are his favorite part of the holiday.
Chinese teacher Mrs. Meilin Wang shared that her family also tries to celebrate a traditional American Thanksgiving. She said, "My family and I still have a Thanksgiving dinner even though Chinese don't really celebrate the holiday that much. I begin roasting the turkey around noon and, of course, make mashed potatoes since it's my children's favorite food."
Mrs. Wang continued, "Instead of watching football and playing games, my children love breaking the wish bone. And one activity that I always love to do is Black Friday shopping."
Millions of Americans spend the morning watching the Macy's Thanksgiving Day Parade. In the afternoon, families like senior Michael DeSciscio's watch NFL football.
This year, approximately 51.6 million turkeys will wind up on dinner tables on November 28. But don't assume that all Thanksgiving dinners center around the turkey.
Senior Jack Dawson revealed that he and his family have honey-baked ham instead of turkey. He explained, "Neither of my parents have ever been fans of eating turkey, but both love ham, so it has become a tradition." Jack and his family love switching it up and eating something different from other traditional Thanksgiving dinners.
Spending time with family and friends is probably the most popular and enjoyable activity on Thanksgiving. Americans like to cook, play games, watch football, and partake in other activities with their families.
Senior Brooke Smith and her family enjoy playing games on Thanksgiving. She said, "My whole family (cousins, uncles, aunts, grandparents, and siblings) play a game called Mafia. Everyone is assigned a role, and it's basically the mafia against all of the other townspeople in order to solve a murder mystery. Whoever guesses who the mafia is wins." Brooke explained that this game gets "super intense and causes a lot of yelling, but it's really fun."
"
My father and I wake up at 7:30 a.m. and go to a nursing home on State Road. We pass out hot fresh-cooked meals and talk to the elderly folks."
— Aubrey Nighman
Liv Gross, a junior, started her own family tradition. "I put whipped cream on a plate. Then, I invite all my little cousins into the room and smash the whipped cream in their faces one by one." She laughed and added, "It is the funniest thing ever to watch their little faces get covered by the whipped cream." Also, Liv loves to eat her favorite Thanksgiving food, pumpkin pie, with lots of whipped cream, of course!
Some people like to give back to the community on this holiday. Americans get the chance to serve the homeless, elderly, or a friend.
Freshman Aubrey Nighman explained that she and her dad have done something very special for five years on Thanksgiving. "My father and I wake up at 7:30 a.m. and go to a nursing home on State Road. We pass out hot fresh-cooked meals and talk to the elderly folks." This tradition shared with her dad makes her feel really good.
Aubrey continued, "The people that live there sometimes think I'm their daughter or their best friend from when they were young. Most of them are lonely, and it warms my heart to see the way they light up about someone coming to see them." Afterward, Aubrey and her dad go back to her grandmother's house for Thanksgiving dinner with her whole family.
Thanksgiving is the perfect holiday for being with family and friends, eating delicious foods, playing fun games, serving others and, of course, getting off from school!