The fascinating Frenchman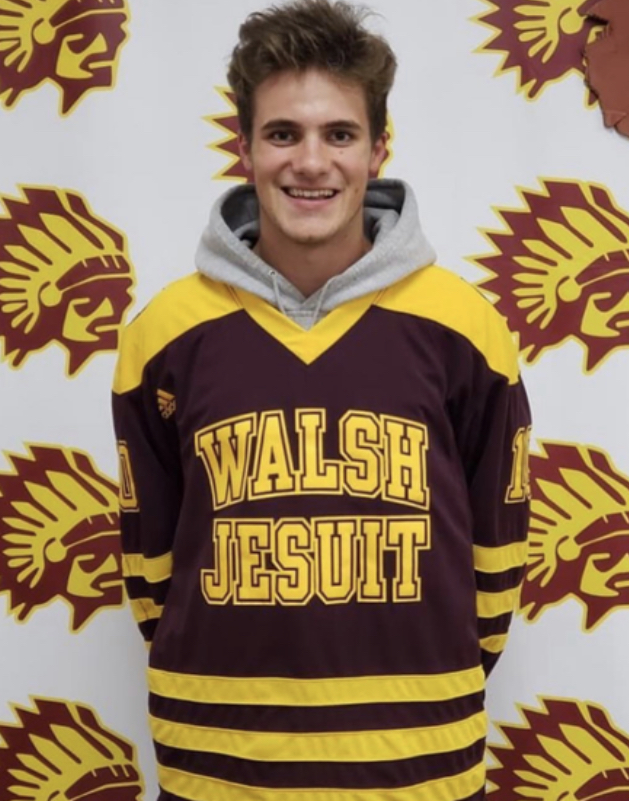 He has been waiting eagerly for this moment for over a year. His first official hockey game in the United States and for Walsh Jesuit.But, just days before this much anticipated event, an unexpected ankle injury occurred. Worst part about it? His dad flew all the way from France to support his son in his Warrior debut.
Born in France to an American father from Wooster, Ohio, and a French mother, junior Noah Bean has looked forward to contributing to the Walsh Jesuit hockey team this year.
Noah was born in Colmar, France, but grew up in the village of Balgau. He has played hockey since the age of eight and quickly drew the attention of many scouts during showcases and camps, such as the one at Kent State in the summer of 2017, where he first made plans to come here.
Noah stated, "I moved to the USA to play ice hockey at a higher level and to further my career. I also wanted to have a new experience in my life."
He first arrived in Northeast Ohio this past August to stay with the French-Canadian family of sophomore Sacha Trudel.
School life here is very different for Noah. At his most recent school in France, which was a Montessori-style school, tests were not graded, and teachers focused more on their concern for the students' multi-faceted development rather than on grades.
Nevertheless, Noah has thoroughly enjoyed his time at WJ and also loves life in the United States. He said, "I am very happy to be a part of this school and team. I love the two colors I wear on my jersey: maroon and gold!"
When asked about the upcoming season, he expressed, "I think it is going to be a good year. The whole team is working hard but, of course, there will be some ups and downs."
Despite the setback and fearing he could be out for up to three weeks, Noah hoped to play in the first home game on Saturday, November 17, at Kent State against Holy Name. After a few turns on the ice, however, he found his ankle too weak to participate.
As the season continues, let's show support for the Warrior hockey team. As Noah would say in French, "Allez Guerriers!"