Stay sane during exam week
Hang on for a minute...we're trying to find some more stories you might like.
For many students, midterm week marks one of the most stressful times of the year. Trying to juggle multiple subjects and deadlines can often lead to pressure and worry. Fortunately, several ways exist to combat exam-related anxiety and improve study habits.
First and foremost, preparing for exams involves maintaining good health. Aim for wholegrains, fruits, vegetables, and foods with protein. In general, students should avoid snacks that have been heavily processed or that contain large amounts of sugar.
It is also recommended to break studying into increments. After 30 to 45 minutes of uninterrupted studying, take a five to fifteen minute break. During breaks, junior Naomi Phelps recommends exercise because "it is a physical way to relieve stress." Although the specific timings may be different for every student, even a short reprieve can help refresh the brain.
One of the best ways to improve exam week is to utilize resources. These may vary from using the internet to talking with friends. "Try to find Quizlet sets from previous students," advises senior Laney Buck. Quizlet is a popular app that uses flash cards and other memorization techniques.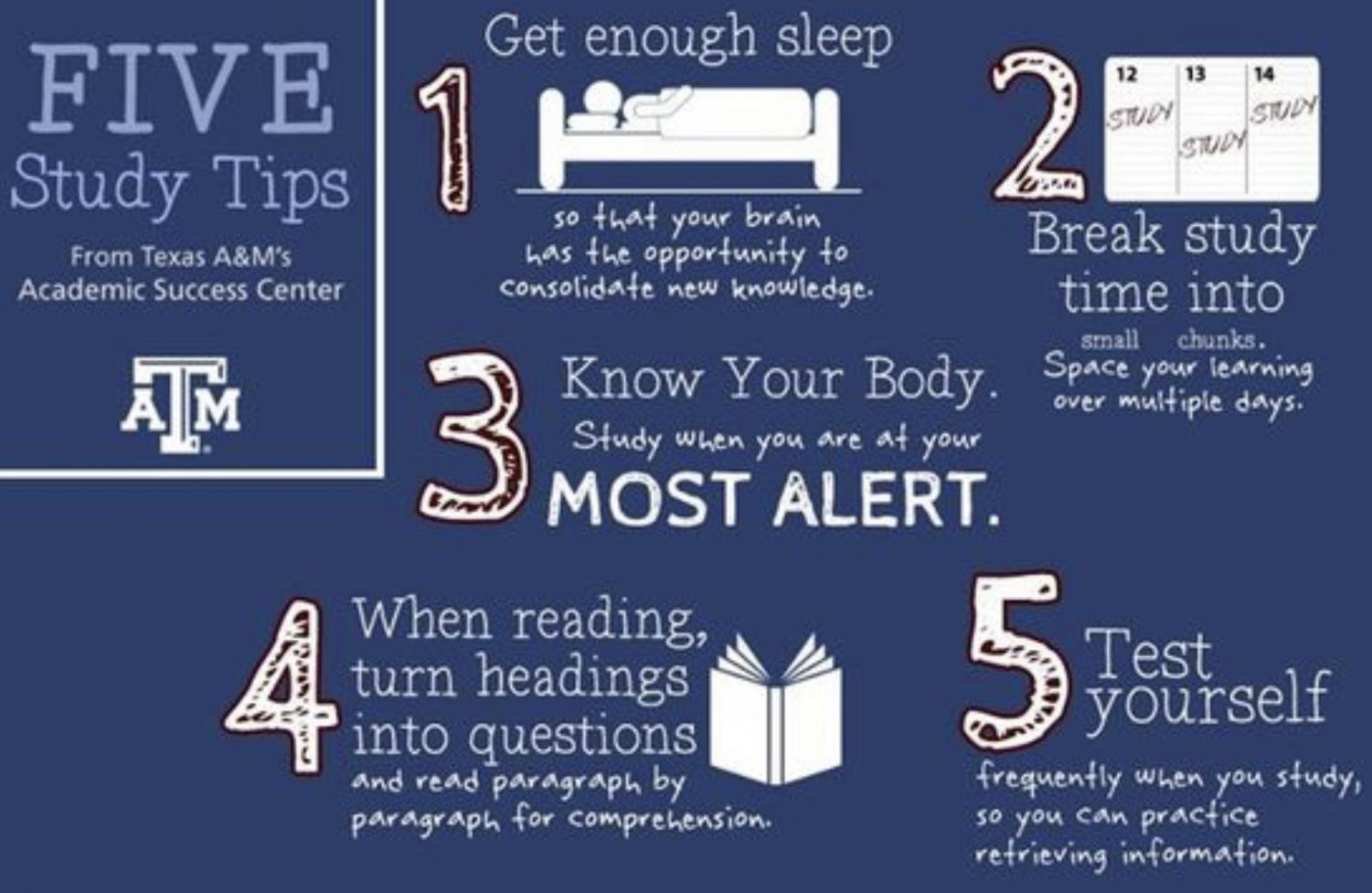 (Texas A&M's Academic Success Center)
Organizations like Khan Academy explain topics in a variety of subjects through clear and concise videos. Additionally, friends and classmates can help with studying while creating a more enjoyable environment. Sometimes a peer can explain a concept in a more understandable way than a teacher or parent.
Lastly, as parents and teachers often say, adequate sleep is important to perform well on tests. Although students may have to spend extra time studying, it is not advantageous to pull an all-nighter. According to Business Insider, after being awake for nineteen hours, the brain operates as if intoxicated. Therefore, it is in one's best interest to turn in at a reasonable hour.
Exam week, although busy and tiring, does not have to be a completely horrible experience. Simple tactics can improve a student's overall well-being and lead to better grades.