Happy Halloween, 2020 style…
Are you tired of wasting away on your couch, watching countless hours of Netflix just like everyone has been doing for the past 7 months? Even during a pandemic, you can still celebrate the beloved holiday of All Hallow's Eve safely.
Maybe you don't want to go to your local store to buy yourself a party-sized bag of candy, or think you're too old for trick-or-treating (I'm looking at you, juniors and seniors). Many neighborhoods in Northeast Ohio have permitted trick-or-treating with proper precautions such as social distancing and masks. A spokesperson for the city of Cleveland has "strongly encouraged residents not to participate," however.
Notably, the cities of Copley and Fairlawn have completely cancelled their usual trick-or-treating events. Neighboring Medina has kept its set date of October 31 for children to beg for candy at people's doors.
Sophomore Elizabeth Gilbert, a Medina resident, says her younger siblings are still going to enjoy the holiday with their friends. "They're planning on going trick-or-treating with just one or two friends, socially distanced and with masks, of course," said Elizabeth.
"
While our options for enjoying Halloween this year may be limited, we can still make the most of it."
On the other hand, if you long to walk through a decrepit building with actors jumping out of the walls and scaring you every five seconds, a number of haunted houses are open. While the Center for Disease Control calls "attending an indoor event high risk for the spread of the virus," you adrenaline junkies can still have a good scare as many establishments are open for business and doing it safely.
The infamous Haunted Schoolhouse and Laboratory in Akron has changed their protocols in light of the pandemic. All guests have a specific date and time they are permitted to attend, and a limited number of tickets are available at the box office. Although their website was ambiguous about the safety measures being taken, Abby Romanini, a sophomore, shared her experience from Saturday, October 16.
"When we got there, we were instructed to stay with our group and stay distanced from others. When we were actually in the house, a lot of the 'monsters' were wearing [virus protection] masks, which took away the total look of the costume. The actors were also instructed not to touch anyone which took down the scare factor. Overall, I [still] got just as good of an experience as I would have in previous years," Abby stated.
Another attraction, Halloweekends at Cedar Point, has been cancelled this year due to the pandemic. Cedar Point's new seasonal event is now called "Tricks and Treats Fall Fest." Park officials have described it as a family friendly event with food, games, merchandise, and more.
When she visited the famed amusement park, junior Maddie Barger noticed a stark difference in how Cedar Point was currently operating. "They reduced the amount of people allowed in and only sold tickets online. They also sanitized all the rides every 30 minutes. Everyone had to wear masks at all times, including during the ride," noted Maddie.
She also noticed how attendance was down compared to their regular operation in the summer months. Capacity of Cedar Point is usually about 55,000 people. Due to the pandemic, park officials have only allowed half that amount to attend, according to Cleveland.com.
While many haunted houses and attractions have established safety protocols, there are a few that have totally closed shop this year.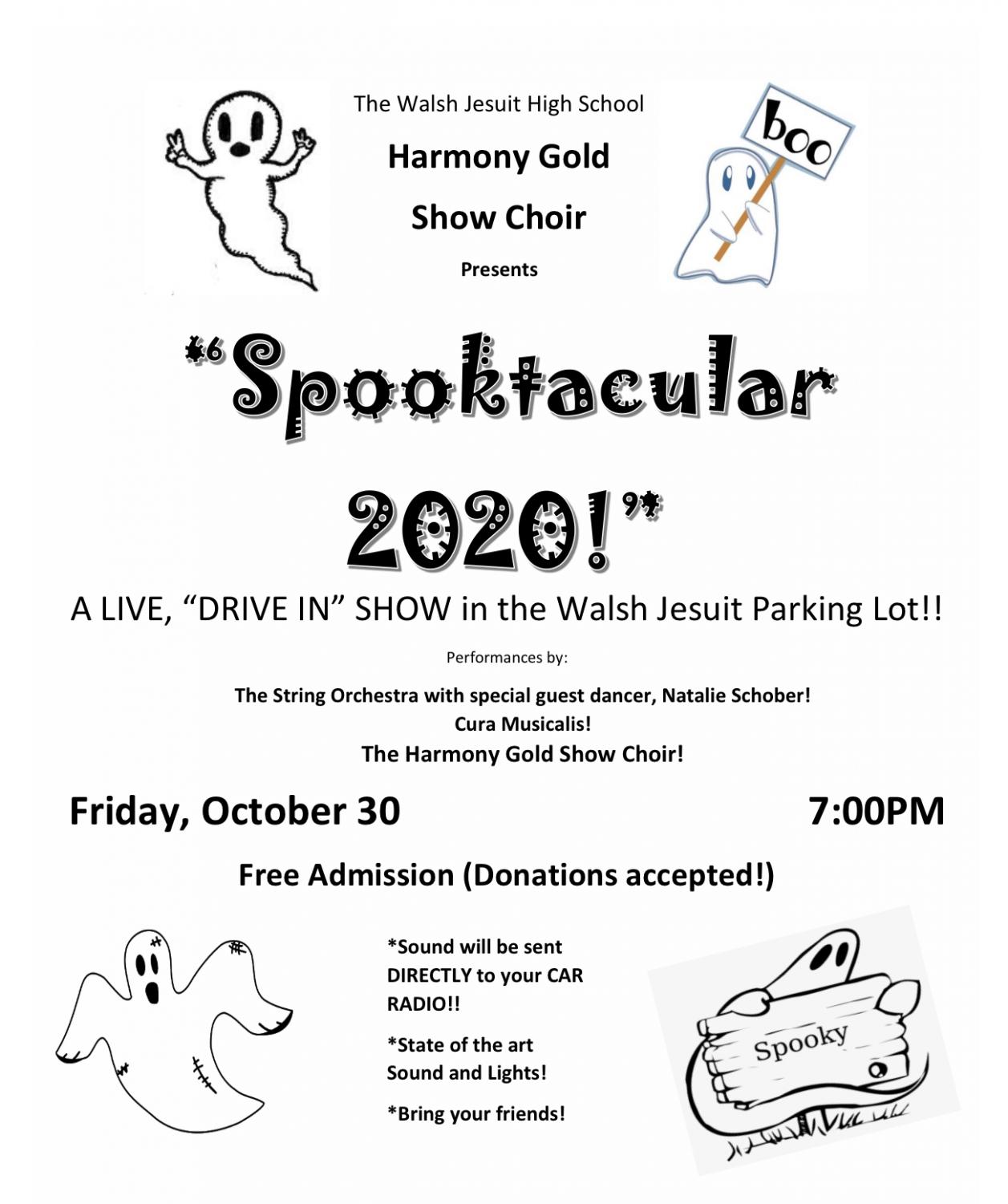 The Carnival of Horrorsat Blossom Music Center in Cuyahoga Falls is not open for operation this year. However, their website states that they are hopeful to "safely scare you again on Friday, October 1, 2021."
Closer to home, even though WJ's "Hallow Homecoming" event was unfortunately cancelled, The Harmony Gold Show Choir is still ready to entertain no matter the circumstances.
Harmony Gold will be hosting a "Spooktacular" today. There will be performances of songs from Radiohead, Conan Gray, and The Cranberries. It is a drive-in event in the parking lot, so social distancing measures will take place. At the end of the show, Harmony Gold will be performing a dance to Michael Jackson's iconic "Thriller."
This show, not to be missed, will also feature state-of-the-art lights and sounds which will be sent directly to your car radio. Be sure to show up today, Friday, October 30, at 7:00 p.m. and bring your friends! Admission is free but donations will be accepted.
When Olivia May, a senior and choreographer of "Thriller" was asked about creating such a long and complicated dance, she said, "It was very hard and challenging to put together at first. My inspiration was a modern take with a hip hop and jazz element, but I still wanted to keep the feeling of the original choreographer."
She also said how proud she was that the choir has come so far. "The choir is looking a lot better. They are putting in a lot of work and it's definitely paying off. The directors are very happy and impressed with them, " Olivia said.
While our options for enjoying Halloween this year may be limited, we can still make the most of it. Even if it means going to Giant Eagle and buying yourself a bag of candy, trick-or-treat yourself to a fun and safe holiday!
Leave a Comment