WJ Dress Code Changes for 2022-2023
On the heels of easing up on the policy for shoes, the 2022-2023 school year will see the implementation of new dress code changes, most notably banning hoods on sweatshirts and introducing uniform skirts for girls and earrings for boys.
"I feel that with some changes the school is moving in the right direction," Rachel McHale, '23, said. "Diversifying our uniform and providing more options for students to wear, like skirts and different shoes, will allow students to express their own style, while still looking uniform."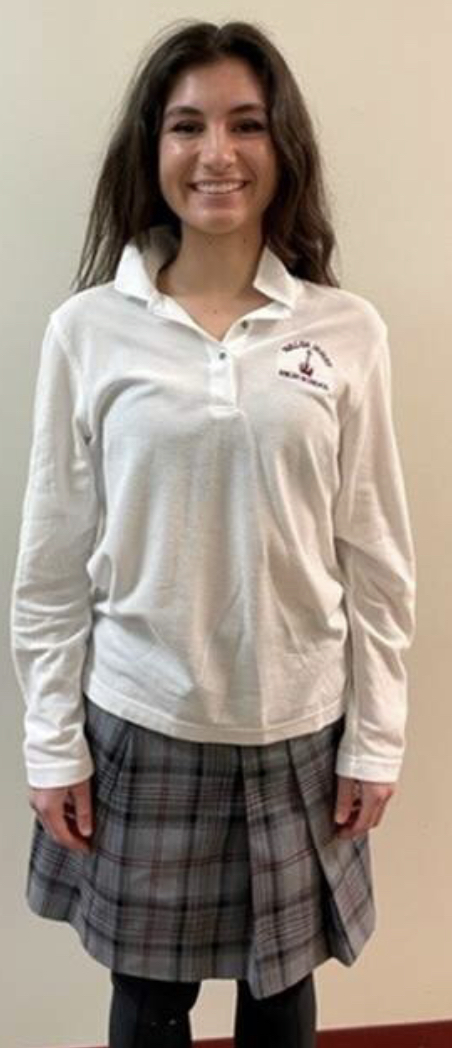 One of the biggest changes in dress code next year is allowing girls to wear skirts with leggings underneath. The skirts must be school-sanctioned and purchased from the school's partner company. Skirts are not uncommon, as other private schools include them in their dress code locally and nationally.
"I'm happy Walsh has decided to let girls wear skirts," said junior Ryan Hall. "I know many private schools nearby do this, and I've heard many of my friends, who are girls, complain about not being able to wear them."
Most importantly, students believe this addition of skirts for women is a positive change and will promote their ability to express themselves through what they wear to school.
"I think that skirts for girls is a good thing. It is an important message to teen girls that you can be both feminine and professional in the way you dress," said Julia Lasky, a sophomore.
The main dress code change for men is that a single studded earring is now permissible. This dress code change addresses our changing society in which men wear earrings more frequently.
Julia Lasky said, "I think boys should be able to wear earrings. They aren't distracting or harming anyone."
Although a simple studded earring will not be a distraction to other students in class, the school will not allow men to wear more complex earrings that may be seen as more attention-getting.
Despite the addition of numerous policies to the student dress code, there is one main drawback, the banning of hoods. Walsh Jesuit will no longer allow students to wear hooded jackets or sweatshirts beginning in the fall.
"Unfortunately, we are taking away hoodies, but I think the school will look better and more respectable," Ryan Hall said. "Crewnecks will ultimately be the replacement, and no one will really miss them [hoods] when they are gone."
Overall, students have mixed emotions about the hood ban, as some students believe it is bad because hoodies are a very comfortable part to the dress code, but others believe it will be a small change and will make the students look better.
WJ students mostly believe that these changes are positive and will add more options for a student to wear to school.
"I think Walsh is making the right changes," freshman Caleb Smesko said. "The changes give the students more options in what they wear and, overall, they are positive. The inclusion of these changes will have a good impact on the school community at Walsh Jesuit."