Slip sliding away…
Seniors and other students increasingly afflicted by decline in motivation.
The "senior slide." That not so subtle shift to utter laziness is starting to affect the Class of '17 in full force.
For many seniors, college decisions have been finalized and the move to campus is swiftly approaching, prompting many to leave concerns about high school behind. As senior Spencer Foley admitted with a chuckle,"I've been slacking off quite a bit more than usual lately"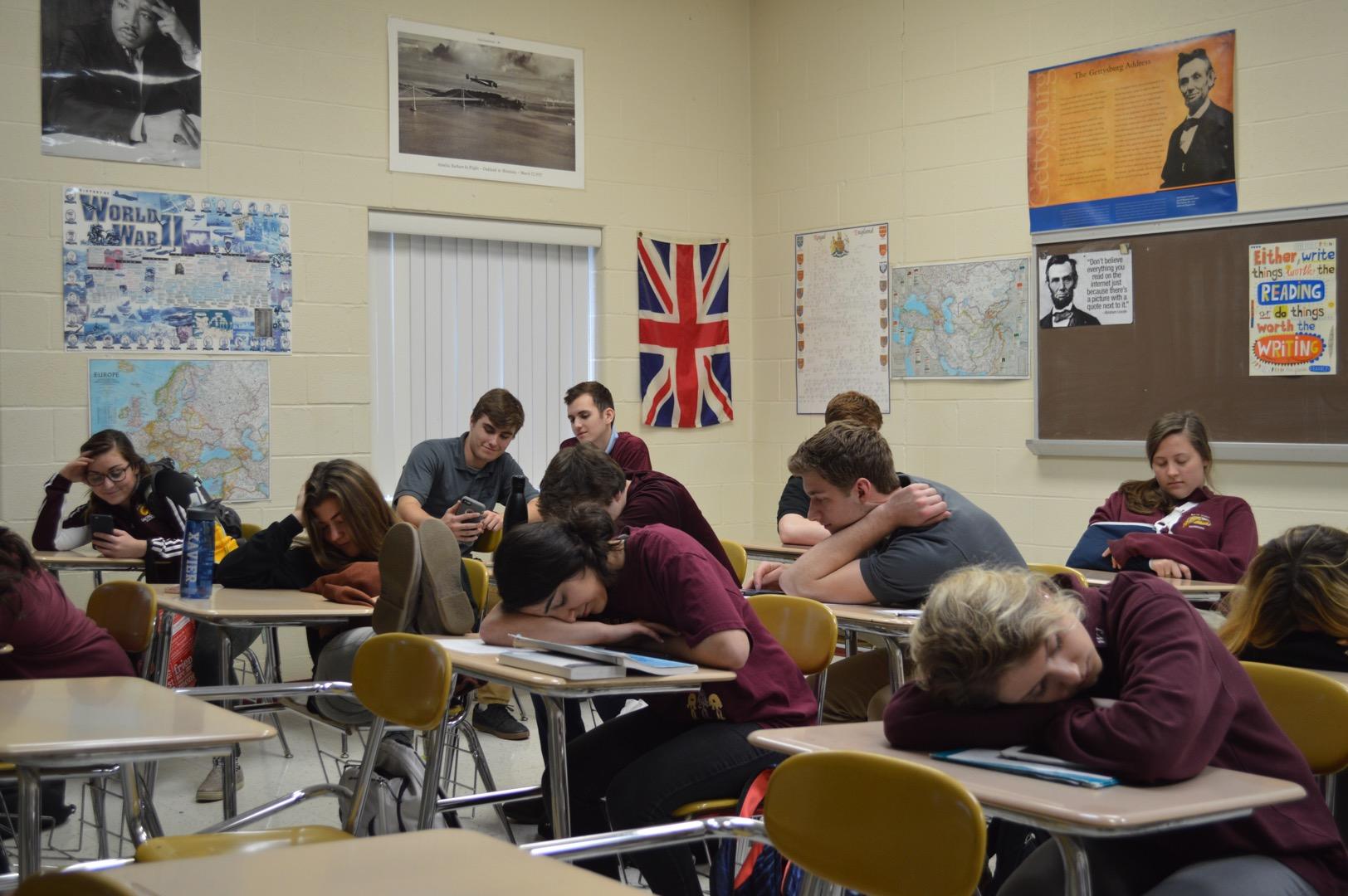 The belief that colleges no longer check up on second semester grades prompts an excuse for seniors to blow off studying, rack up a high number of absences, or omit assignments. For some, the senior slide has hit harder than others.
Filled with excitement to move on to college, senior Ellen Hudock has viewed high school as a mere stepping stone for the anticipated "best four years of [her] life." Looking forward to becoming a Dayton Flyer, Ellen explained, "My senioritis started freshman year and has grown exponentially over the course of my four years here at Walsh."
For Ellen, the catalyst for her senior slide was her official enrollment in the University of Dayton. Ellen exerts nearly no effort in any of her classes, even in her advanced placement classes. "As soon as I paid the enrollment fee, I checked out [of high school]," she said, laughing. A self-identified senior slacker, Ellen takes pride in how she embodies the true spirit of senioritis.
"It's frustrating, to say the least," sighed Mr. Sistek, AP Government teacher, as he recounted his experiences with senioritis. Many teacher of seniors would agree. Some believe that the senior slide begins right after first semester exams. They find keeping students on task to be increasingly challenging as second semester progresses.
"
Time flies when you have great friends with you. It's going be hard to see it end, but I'm excited to see what's next."
— Tom Dolata, '17
Nevertheless, the thought of letting hard earned grades drop keeps many soon-to-be-graduates inspired to keep up with their school work until the very end of the year. Alyssa Dabrowski's daydreams of college are kept at bay in order to maintain her high GPA. "Grades have always been important to me, and these last few weeks are no exception to my determination," she commented. Alyssa, also headed to Dayton, added, "Even as a second semester senior, I still turn in all of my homework on time. I get lazy sometimes, but I am way too scared of authority not to do my work."
Senior Colin Waltz agreed: "Even though I procrastinate until the last minute, I still end up doing all of my homework." Alyssa and Colin both plan to maintain their strong work ethic next year and throughout their careers.
While some seniors manage to fight off senioritis, many succumb to it. In the end, completing assignments is not the focus of the last few weeks of school. "It's bittersweet. I'm just trying to make the most of my time left," admitted Abby Major.
As an era of their lives winds down, some soon-to-be graduates are more excited than others.  Senior Tom Dolata reflected on his time at Walsh Jesuit: "Time flies when you have great friends with you. It's going be hard to see it end, but I'm excited to see what's next."