Stellar XC Season for Luke Ondracek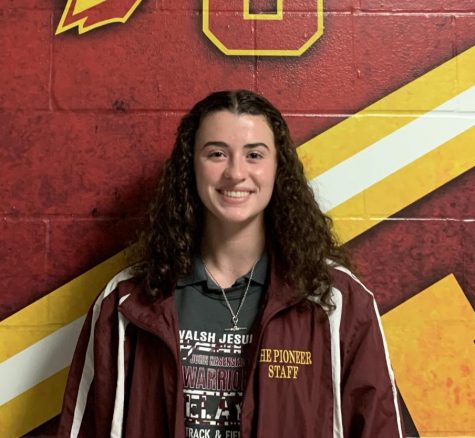 More stories from Kaitlin Mohlenkamp
Sophomore Luke Ondracek's recent impressive cross country season has him confidently looking forward to the future. In just two years, Luke has gone from being unable to make it out of Districts to running in the OHSAA State XC Championships.
In the state meet on November 2, he competed against 185 others and placed 80th with a time of 16:34. "I'm definitely happy with how everything turned out," said Luke. "My main goal this season was to make it to States. Accomplished that."
Luke has improved immensely from last year. His current personal record (PR) stands at 16:15, which he ran on September 14 at the Galion Cross Country Festival. That marked a two minute improvement from his time last year at the same meet.
Another highlight from this season occurred when Luke placed first in the North Coast League Championships (NCLs), his first ever win. What made it even more special was the fact that he was continuing his older brother's legacy.
Nate Ondracek, who graduated in 2019, had won NCLs the previous two years. "I was really excited for [Luke] … it was especially cool that he kept the tradition going," said Nate.
Luke believes his best race was at the Stow Bulldog Invitational on October 5. "I was projected to come in 12th and ended up coming in 5th," he said.
Talent alone did not bring about Luke's success. "I can say for a fact that Luke is so fast because he wants it more than almost anyone else in the sport. He works hard every day and always pushes himself to be stronger," said Nate.
Boys' cross country coach and English teacher Mr. David Lee shared the same opinion. "One of the things that makes [Luke] successful is not only his work ethic but his drive, his desire to be the best, and that's just amazing," said Coach Lee.
Nate believes brotherly competition also motivates Luke. Nate said, "As much as I don't want to, I have to believe … he'll definitely end up beating my time [of 15:59]."
"Yeah, I definitely intend to beat that," Luke said. With his current PR, he's not far off, either.
Besides Luke being a gifted runner, Coach Lee noted, "He's a good teammate, as well. He leads by example."
Junior and fellow teammate Gavin Carr agreed. "He was always pushing us along. When we did long runs, he would always be making sure we were going fast … that was good," said Gavin.
As for future goals, Luke is aiming big: "Nationals … it's the main goal." To qualify for Nationals, Luke must run close to a 15:15 to place in the top five at the Nike Cross Regionals Midwest, a meet with runners from five midwestern states.
"That's achievable. He can do that," said Gavin. "He'll be there next year. He will."
Luke's desire to succeed and his great work ethic have made him an exceptional cross country runner. As Coach Lee said, "Right now, the sky is the limit for Luke."