Gymnastics girls defy gravity
A group of girls in our midst routinely defies the laws of physics and physical ability. But that is exactly what the WJ gymnasts do.
Made up of eight girls, Walsh Jesuit boasts a small yet mighty team. Their record consists of excellent scores and amazing spirit that add to the excitement at meets. Coming in as one of the top 5 teams at every meet during their regular season, they presented a force to be reckoned with.
Coached by Megan Mertz and Cacey Laidman, the girls can be found training from Monday to Thursday from 7:30pm-9:30 pm at Gym World Twinsburg until their bodies hurt. They are joined by the Hudson Gymnastics team. As Mandy Whelan, a Hudson gymnast stated, "It is like a family of 30 girls. We are essentially just one big team, and we all love it."
All of the girls cheer one another on despite being on opposing teams. When they go to competitions, other teams look at WJ and Hudson in pure confusion, not realizing that they train together. It's very special for the girls when they are able to compete in the same time slot.
Four new members of the team brought a fresh set of skills and personality: freshmen Bella Allen, Sofie Piro, and Ellie Moore, along with junior Lexi Brown. All of the girls are extremely proud of the progress they have made and the skills they have developed.
Veteran Macy Clough, a junior, consistently racked up valuable points for the team as she mastered her toe hand and giants on bars. The difficulty of these skills is based on total control of the body while shifting around the bar and keeping the body in the correct position at the right times. Bella Allen contributed valuable scores to the team, as well, with the addition of her flipping vault. But, as the season ended recently, the girls were saddened by the fact that their one and only senior, Leah Sherman, would be leaving them.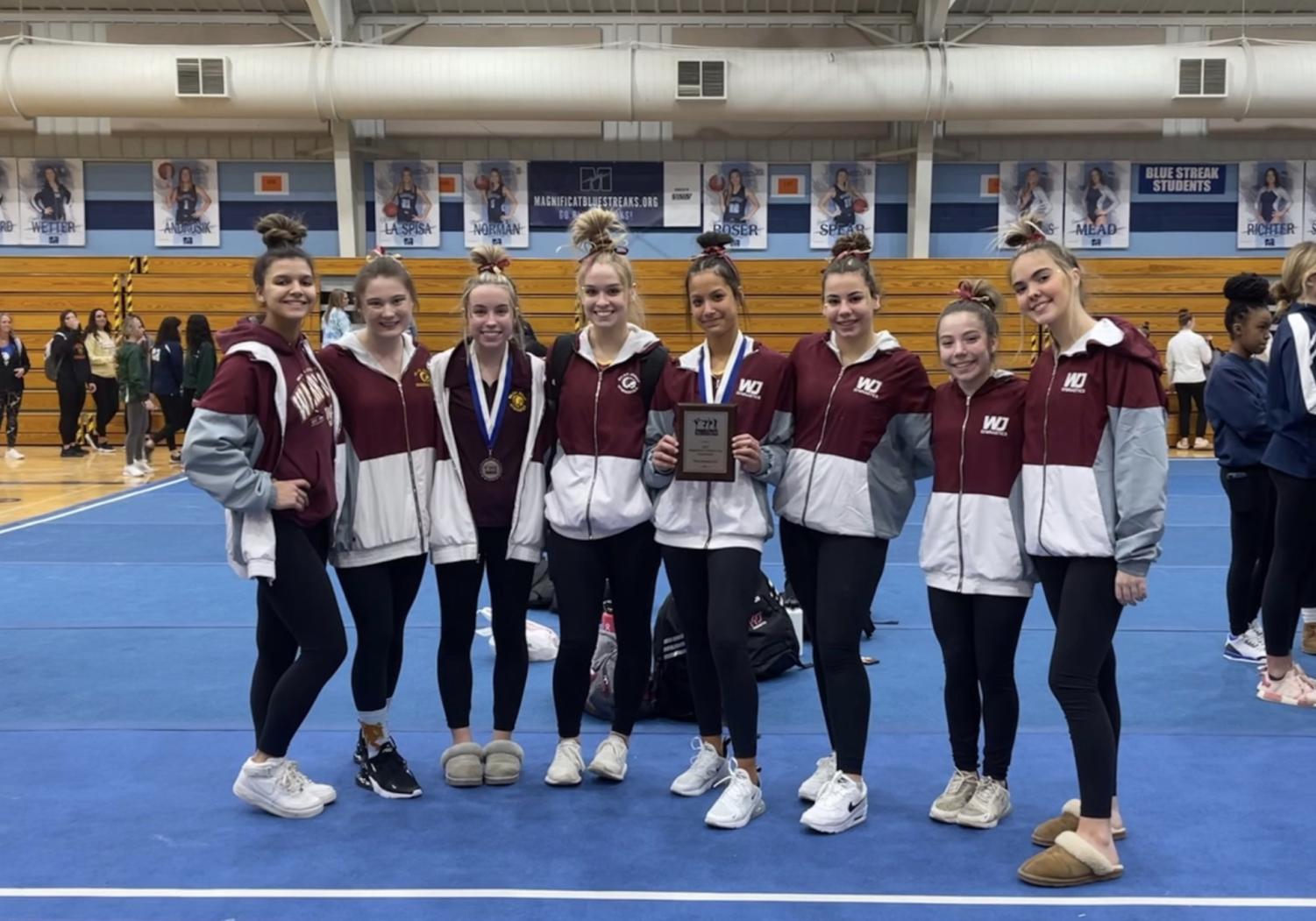 Despite the flips, spins, and jumps of this season, from COVID to injuries and history being made, the team is excited to have placed 3rd at Sectionals out of 12 teams. While individuals advanced in past years, the team collectively advanced to Districts for the first time in WJ history on February 26. Three individual gymnasts qualified as well: sophomore Mady Wolfe on floor and Macy Clough and Leah Sherman on beam.
The girls cheer, "Walsh to States!" as they look to next year while building optimistically upon the lessons of this one.